Last Updated
Located just 30 minutes from the Cancun International Airport is one of the area's hottest new hotels, Garza Blanca Cancun. This lavish art deco property is worth the addition to your 2022 vacation bucket list, especially if you're looking for a seriously luxurious getaway.
The Cancun Sun was recently invited to the brand-new Garza Blanca Cancun to try it out for our readers. As travel writers, our bar is set pretty high, but the Garza was able to shock and impress us at almost every opportunity, which is not something we can say often about resorts.
Below is our detailed spotlight review for the Garza Blanca Cancun, which will give you the honest pro's and con's about the property, what makes it different from other Cancun hotels, everything you'll want to know about staying there, and most importantly, if it's worth booking for your next vacation.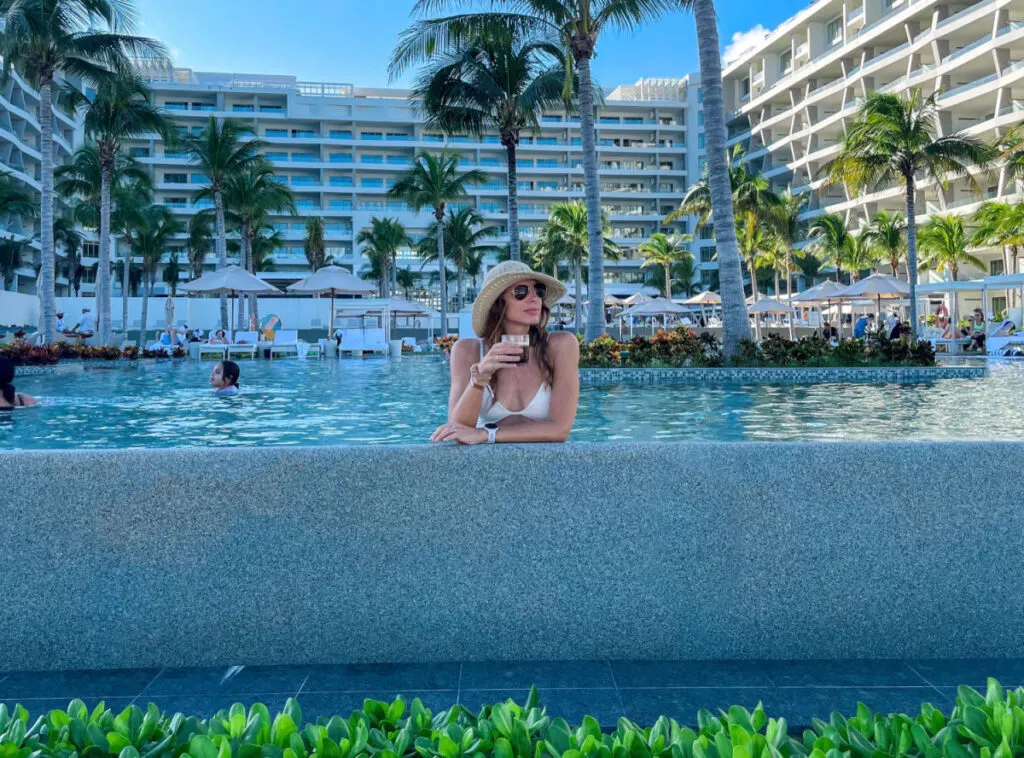 Quick Facts
Year Opened: Soft-launch 2021, Grand opening February 2022
Rooms: 452 luxury suites
Area of Cancun: Costa Mujeres
Both 'All Inclusive' and 'European Plan' options
Prices start at $336 2 people on the European Plan and $273 per person on the AI plan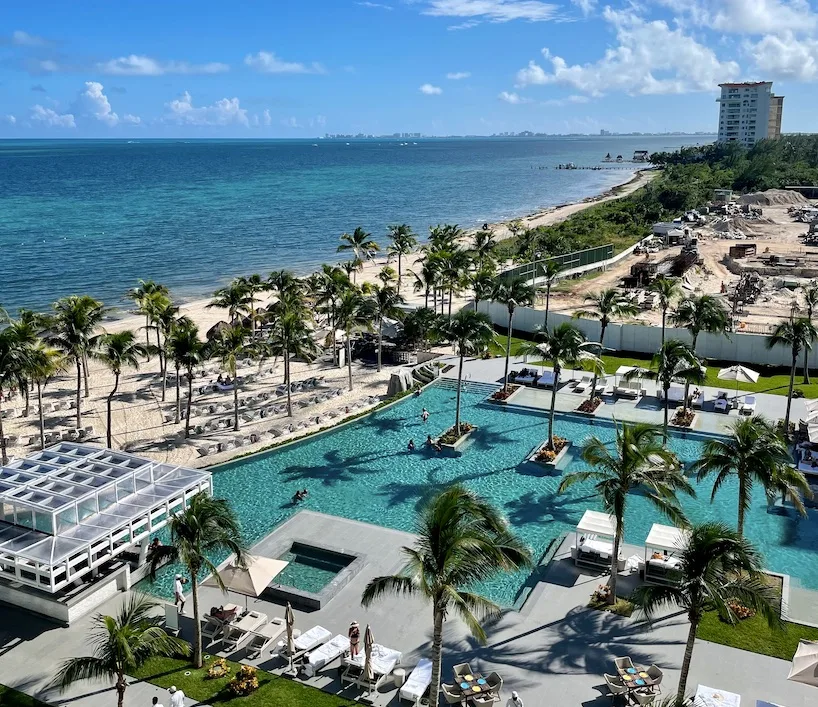 Who Garza Blanca Is For:
Girl's getaway trip
Couples
Families
Since even the entry-level rooms are so spacious and the ability to book up to a four-bedroom suite that sleeps 12, this resort is perfect for wedding parties, girl's getaway trips, and large family vacations. Couples will also really enjoy the ultra-luxurious rooms, like the 1-bedroom ocean view room we stayed in, which offers over 1200 sq ft of space, almost impossible to find at a reasonable price in Cancun.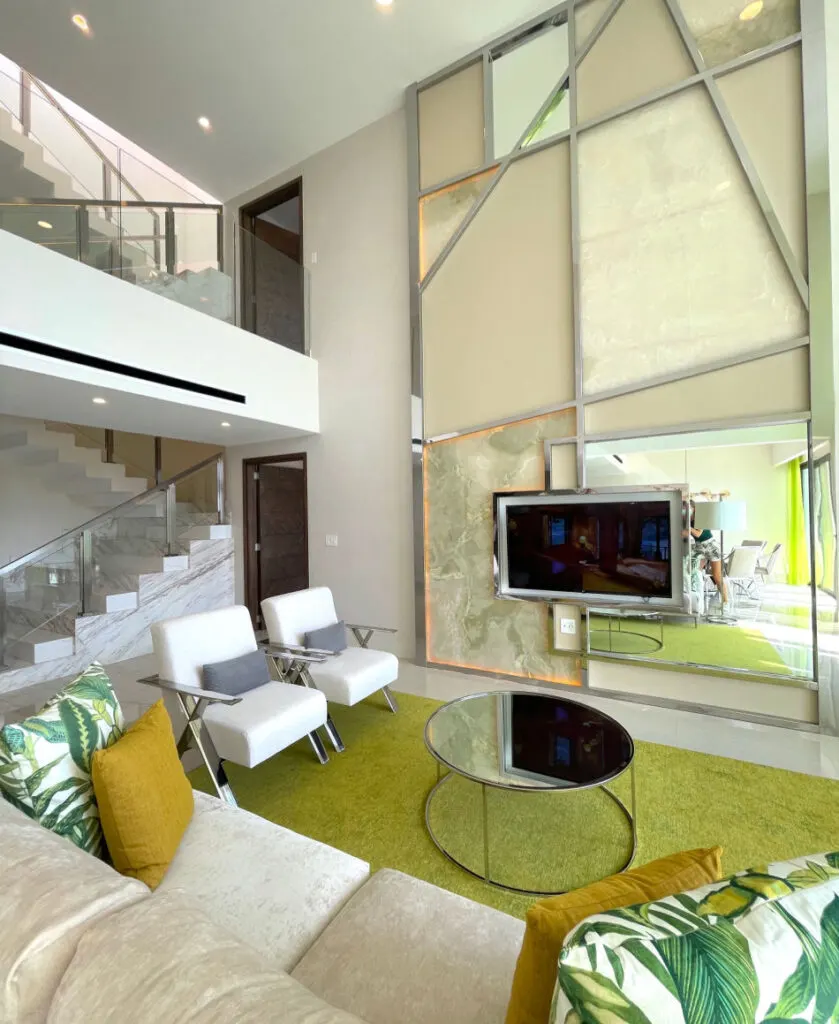 Who Garza Blanca might not be for:
Solo travelers
Party seekers
The Garza Blanca is a beautiful and luxurious resort, but looking at it objectively, it's not going to match the needs of many solo travelers. Unless someone was coming alone for an intensive solo spa stay, there really isn't a lot of opportunities to meet other singles. The same rings true for those seeking a massive beach party, they simply won't find that here.
When we visited in December 2021, the rooftop pool and bar were still having the finishing touches put on it, and while it's expected to be a lively hangout spot, it's not going to be spring-break level lit.
The Room – 1 Bedroom Ocean View
1246 sq ft
Two full bathrooms
Fully equipped gourmet kitchen
Oversized double balcony with outdoor dining table and hammock
Separate living room with pullout couch and soundproof sliding door
Luxury linens, robes and amenities
Stocked fridge, snacks (even microwave popcorn!), Nespresso machine and drip coffee machine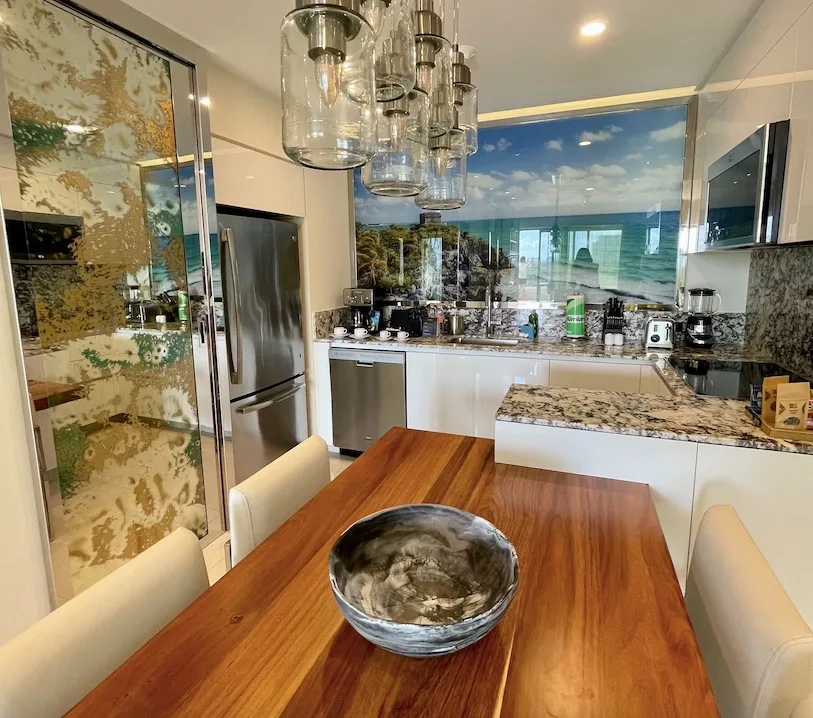 The 1 bedroom ocean view suite is incredibly impressive, even for the most discerning luxury traveler. The designers didn't overlook one single detail when they created these rooms, I couldn't find one fault. The rooms have been filled with trendy décor, giving the spaces an extremely cozy and familiar feel, almost like a luxury house instead of a hotel. Everything was taken into account, like the ceiling fans, electronic blinds, oversized towels, high-quality linens, bathroom amenities, a variety of lighting options, smart layout, and even having enough power outlets.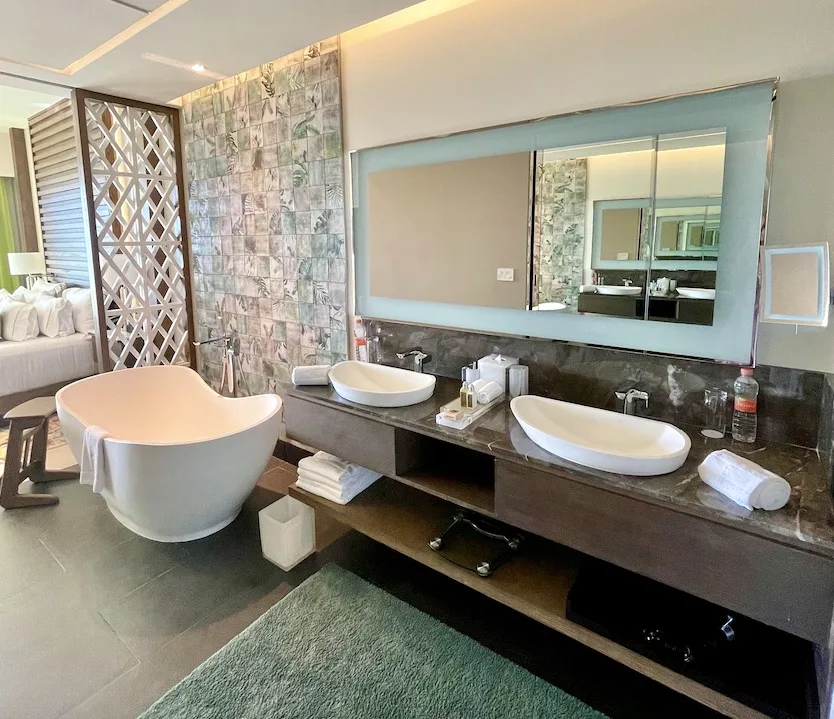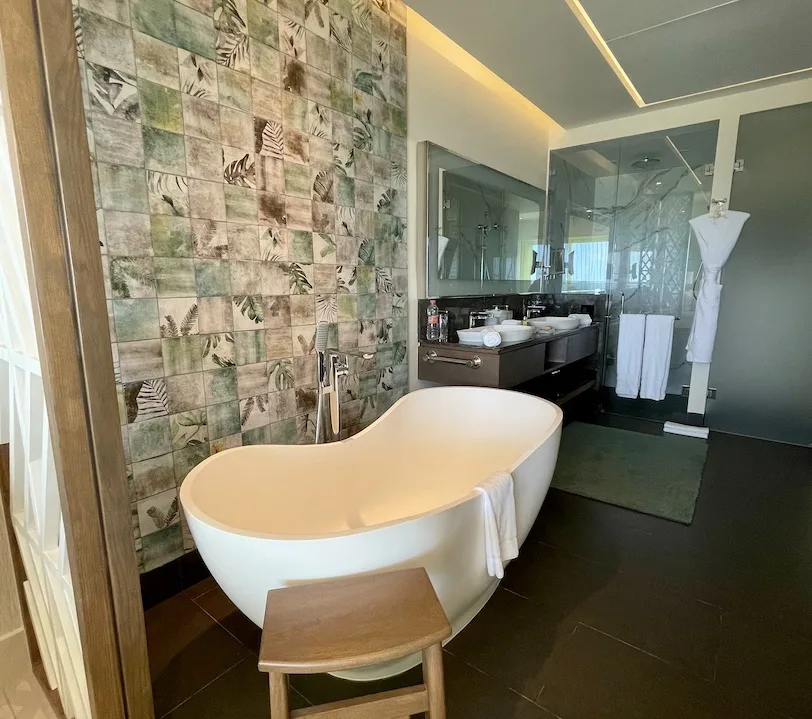 I found myself saying out loud "My god, this room is so nice!", which as a full-time travel writer, I don't find myself declaring very often. You can tell they put an enormous amount of time and care into the rooms, and they did not cut corners on anything.
In our particular suite, we even had two bathrooms, which is such a great feature to have when vacationing with friends, or let's be honest… even your spouse!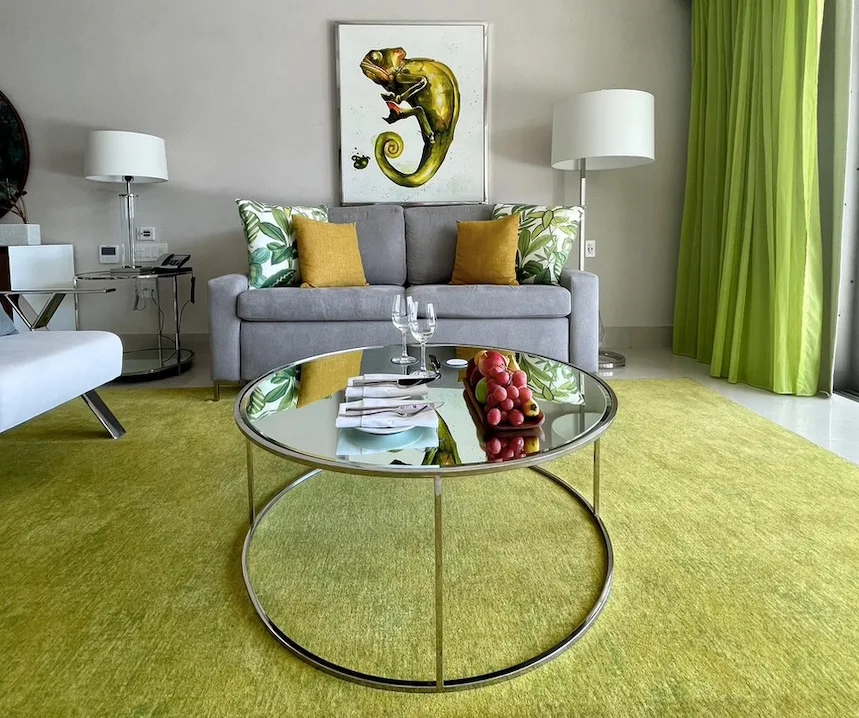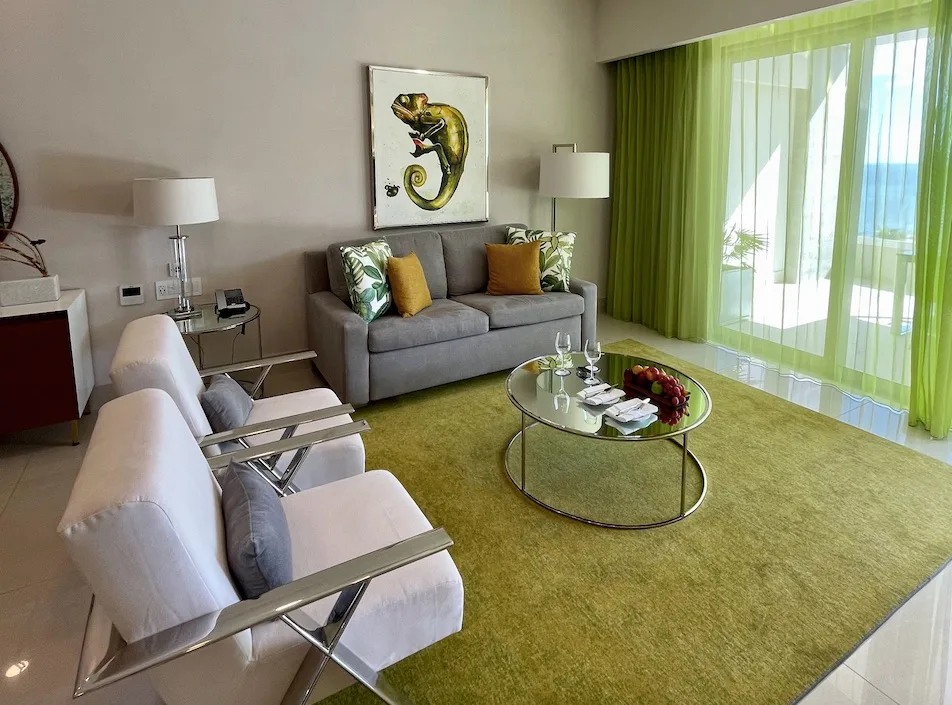 PROS and CONS of Garza Blanca
PROS at a glance
Oversized rooms, even entry level
Very classy, swanky, art deco décor throughout property
Over the top service from all staff
Ability to visit and use the next-door hotel, Villa De Palmar
Butler service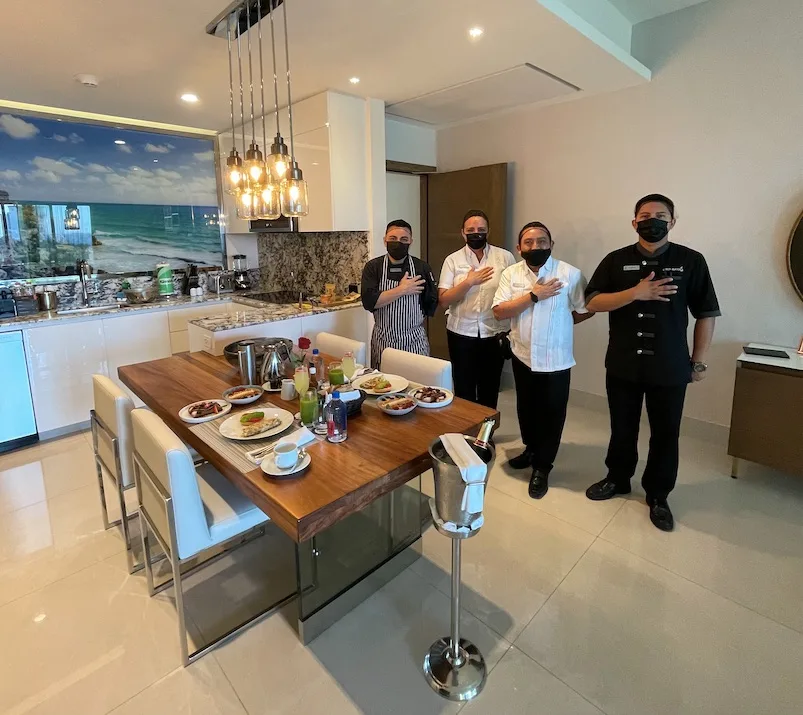 Very thoughtful layout of entire property, easy to access everything quickly
Backlit mirrors in bathroom, plus elegant full-length mirrors in room
Many room categories like swim out, garden view, ocean view, and family suites
Food truck on the beach for an easy quick lunch
Top shelf alcohol brands and on-site mixologists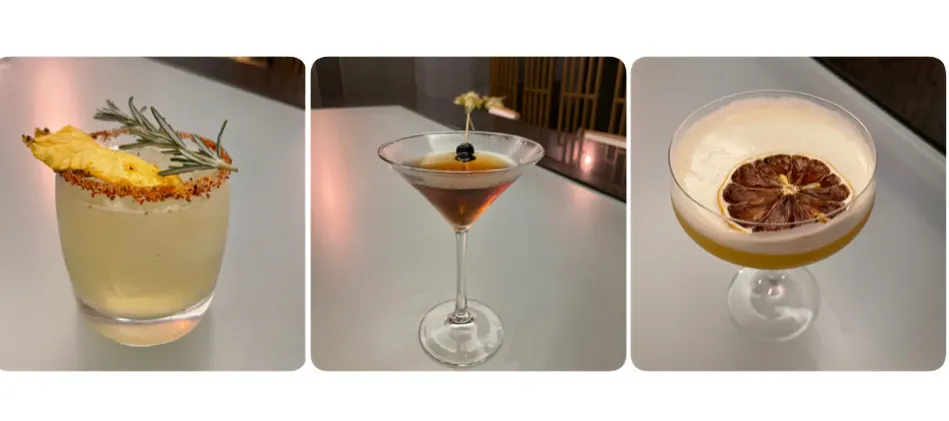 Food worthy of the title 'gourmet'
Beautiful beach area with many palm trees and palapas
Great amount of pool bed and cabanas
Fun martini and margarita carts come by the pool and inside the restaurants
Next level luxury spa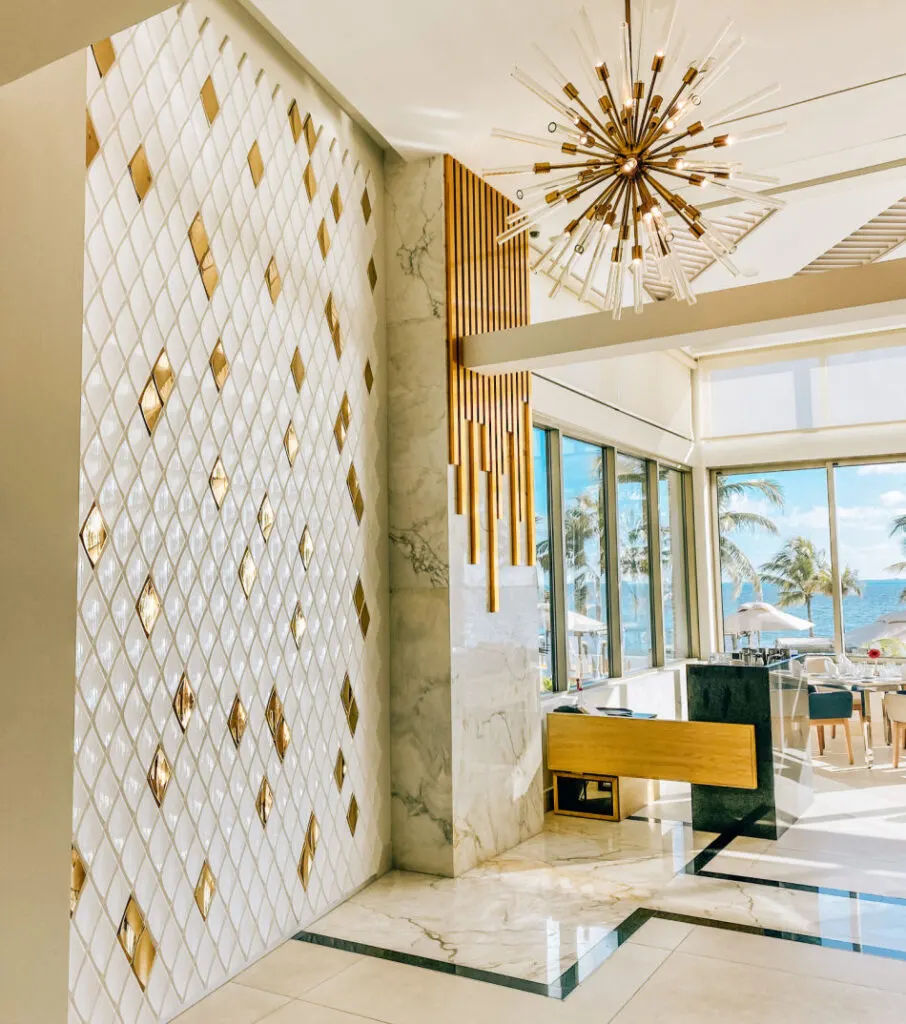 What makes the Garza Blanca different than many other Cancun resorts
The above PROS can be found at many Cancun resorts, but here are a few features that make the Garza Blanca truly exceptional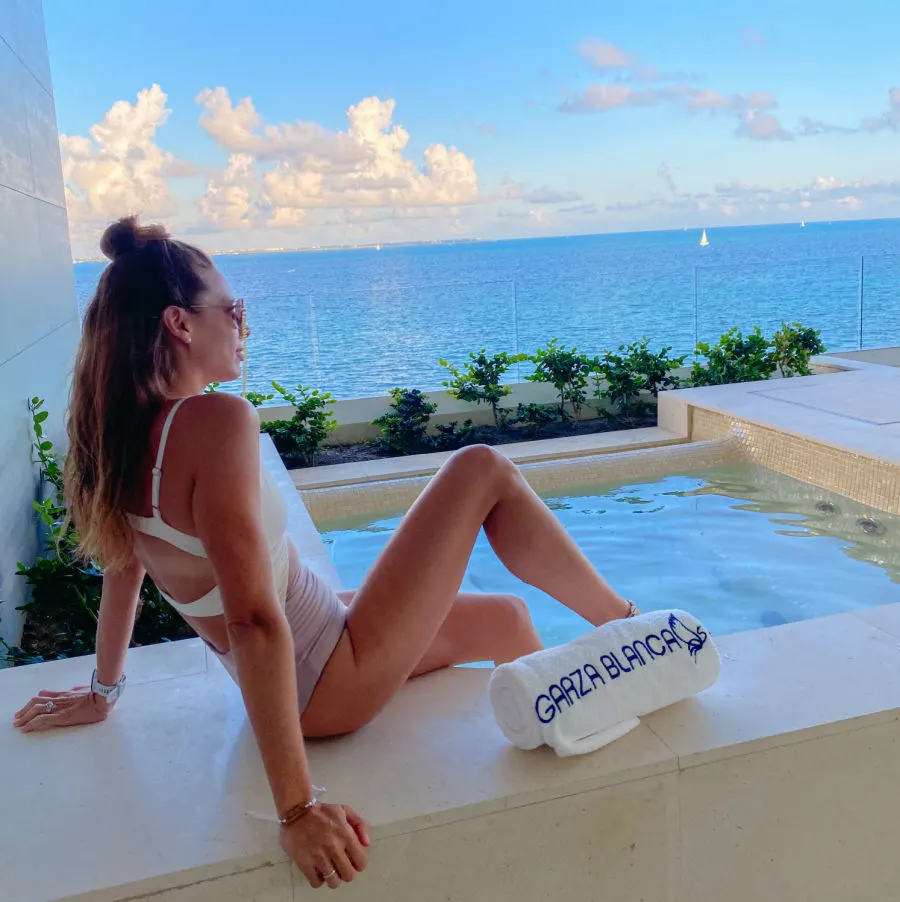 Japanese toilets
As someone who's extensively traveled throughout Asia, I was ecstatic to find Japanese toilets in the 1-bedroom ocean view room. If you know, you know.
Great photo opportunities
The common areas, along with the rooms, offer some fantastic photo opportunities, like the gorgeous glass-front pool.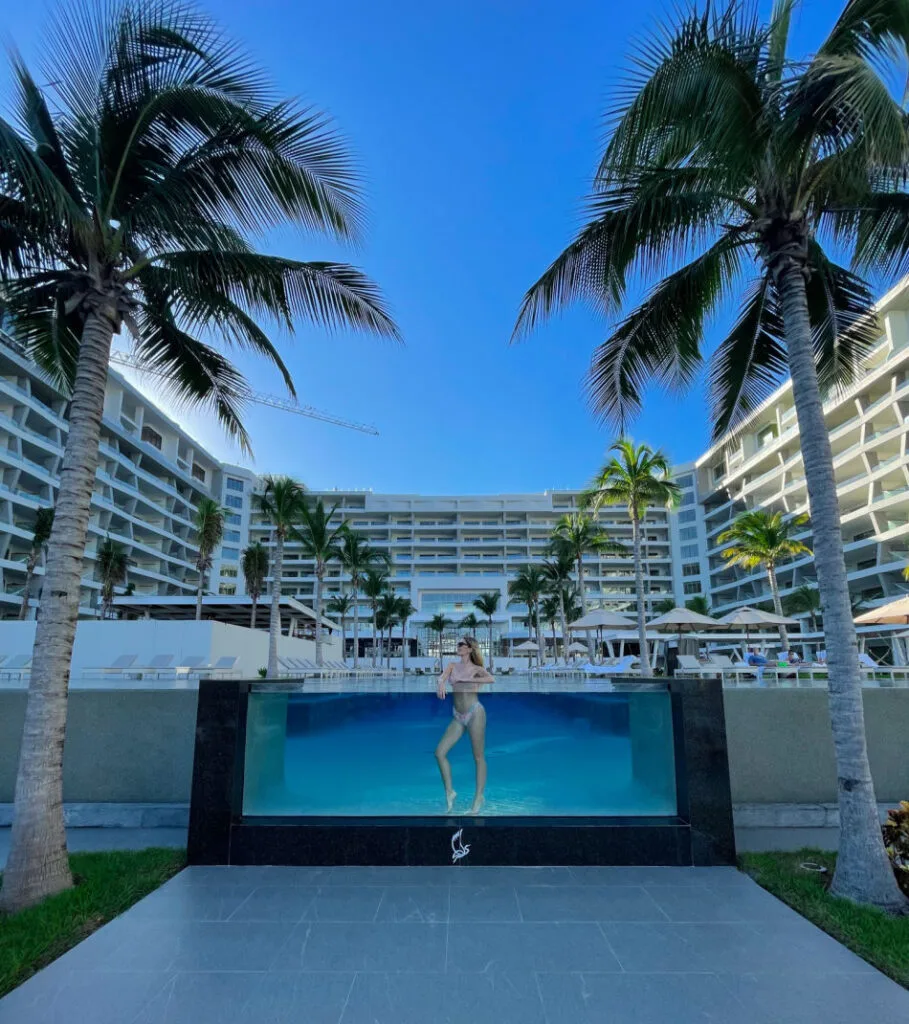 Fully stocked kitchens
This was another feature that completely shocked me upon check-in. All the suites, 1-bedroom or above, are fully stocked as a working condo. They have a washer and dryer for laundry, yes even stocked with soap, a dishwasher, plus a chock-full kitchen, complete with bakeware, cooking utensils, plate ware, etc.
While almost all guests choose an all-inclusive plan when staying at the Garza Blanca, this makes the ability to pick the European plan a real possibility for guests, or simply makes the stay that much more luxurious. Sometimes there is something so understated about being able to wash a few items of clothing on vacation.
Rooms are larger than almost every other resort in same category
If you search other luxury resorts in the area, you'll see the rooms are 20%-50% smaller in the same price category. Not only are Garza Blanca's rooms larger, but they are incredibly decorated with every detail being considered. They don't feel empty or cheap the way some newer resorts can.
They also have the most options for families with everything from pull-out sofas, lock-off rooms, or 1-4 bedroom configurations.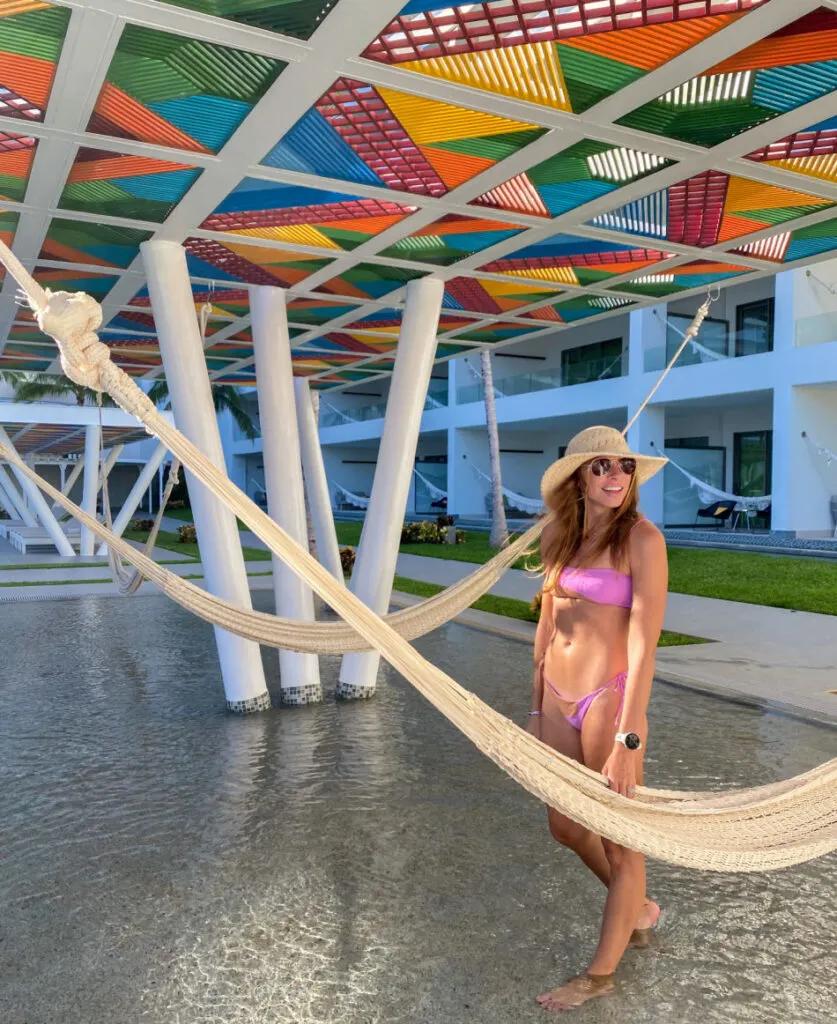 Choice of pools
For the smaller footprint of the hotel and the fact it's not spread out among hundreds of acres like some mega-resorts, the Garza Blanca still offers a variety of hang-out areas and different pool experiences.
The main pool is a ground-level infinity pool overlooking the beach and ocean with a jacuzzi to the side. Behind that, up a few steps, there is another pool with a more relaxed atmosphere and even some swinging hammocks inches over the water. On the rooftop, guests will find yet another pool with sweeping views of the coast to one side, and the vast mangroves on the other.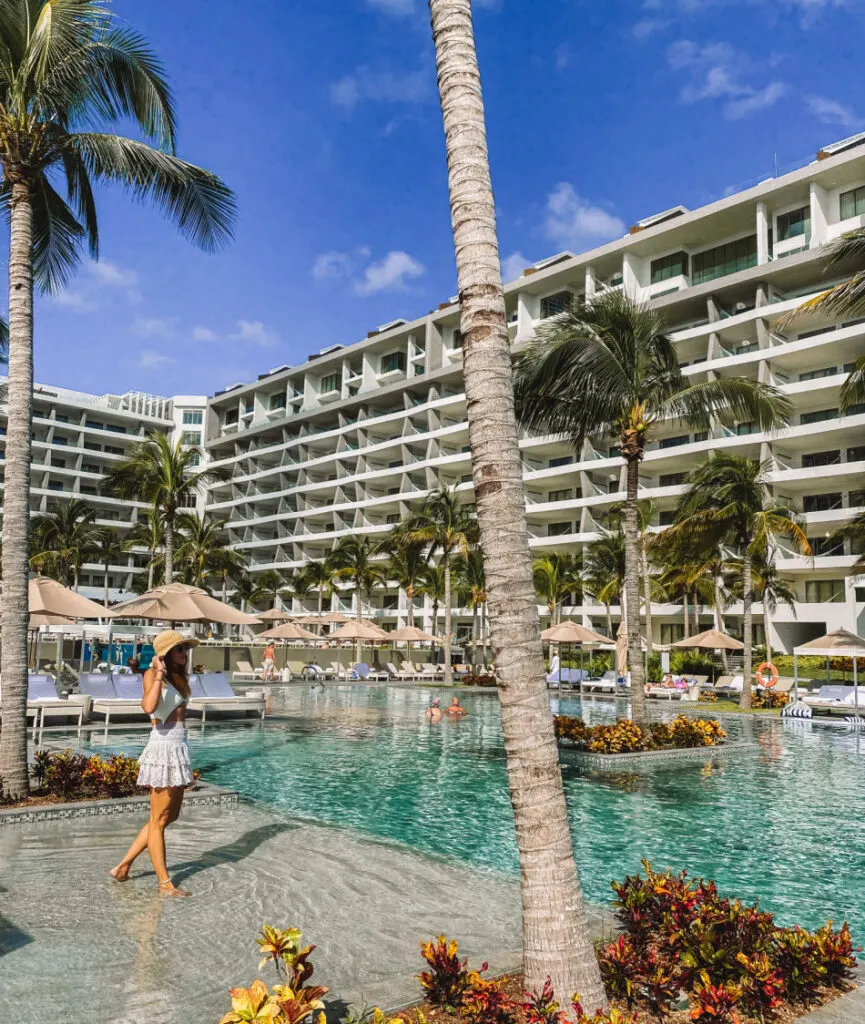 Level of Service
We've recently been the guests of many competing hotels in the area, all in the same price point and star level, but the Garza Blanca has the best service hands down. The exact second we showed up at the pool there were people there to lay down our towels for us, move umbrellas the way we wanted them, and take our drink order. We never waited more than 3 seconds to be acknowledged. The same care and attention is true for poolside service and in all the restaurants. Servers were always available and always checked on us constantly, almost to the point of being exhausting, but trust me that is a MAJOR perk, as in many hotels it's impossible to track anyone down when you need something.
Even walking down the hallways, staff would stop doing whatever task they were engaged in and politely greet us. The Garza has an extremely high level of service by staff that truly enjoy having a passion for guest experience.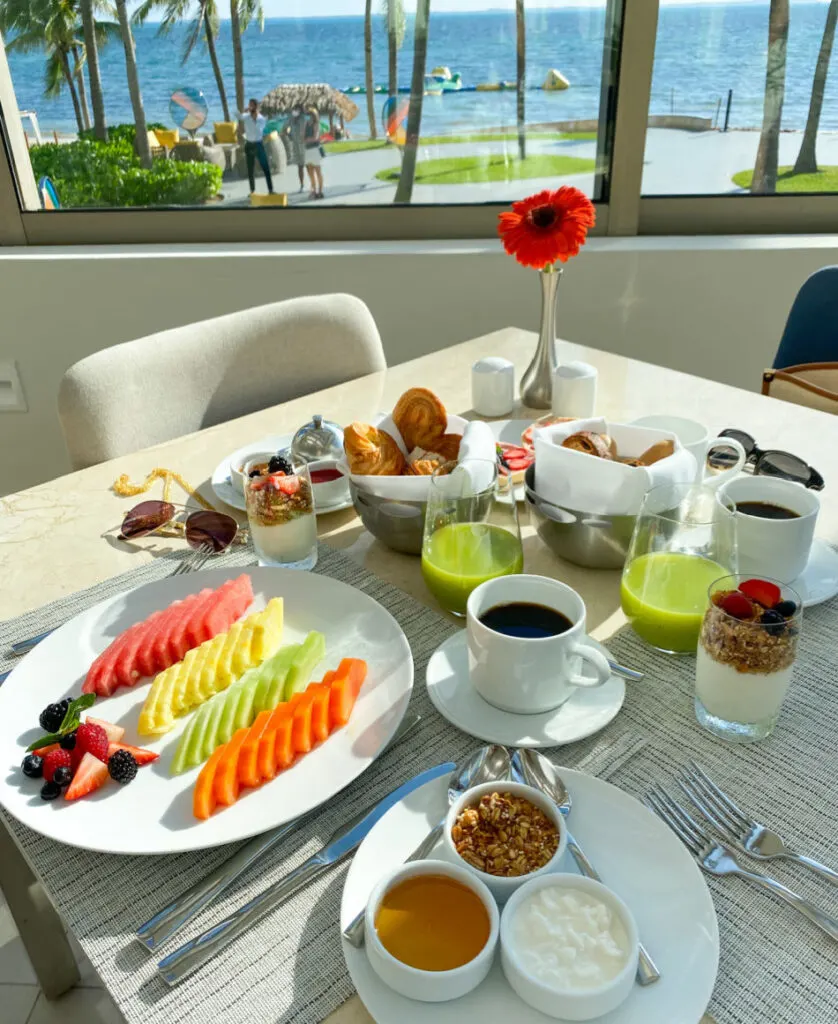 Many options for vegetarians and vegans
During our stay, we opted for a totally vegetarian experience to see how the Garza could perform under dietary restrictions. They excelled at this challenge. The Garza Blanca has put an emphasis on their vegetarian and vegan options, which is something traditional Mexican resorts in the area have not yet figured out. We were able to eat multi-course breakfasts, lunches, and dinners throughout our stay without repeating dishes or sacrificing tastes or flavors.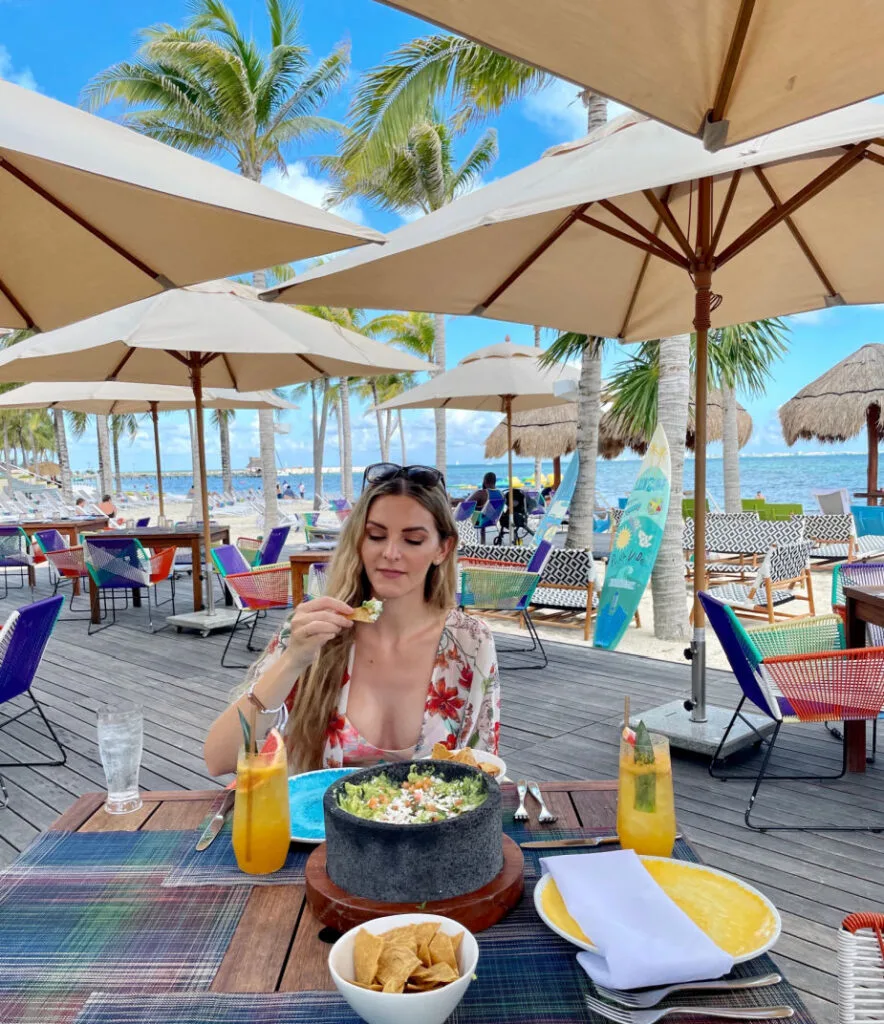 At the extremely cute beach-side food truck they made us a vegetarian lunch of jackfruit tacos, roasted cauliflower, and fresh guac made at the table in a molcajete. There was also a mixologist in the truck making custom cocktails to match the flavors of the dishes.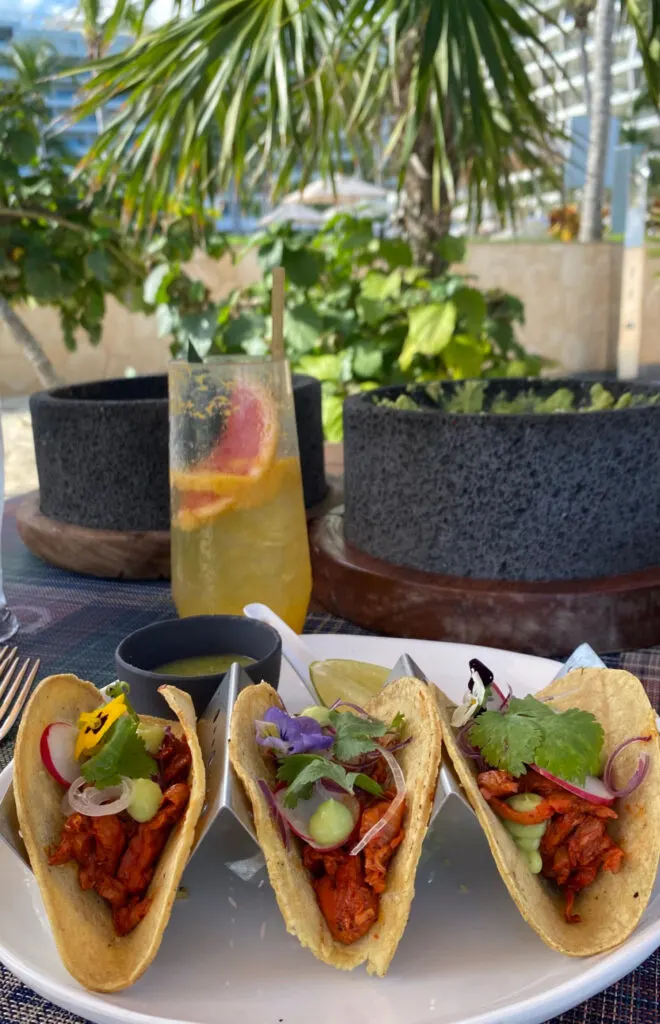 Even during a 5-course meatless dinner, the chef would even prepare a special vegetarian amuse bouche for us.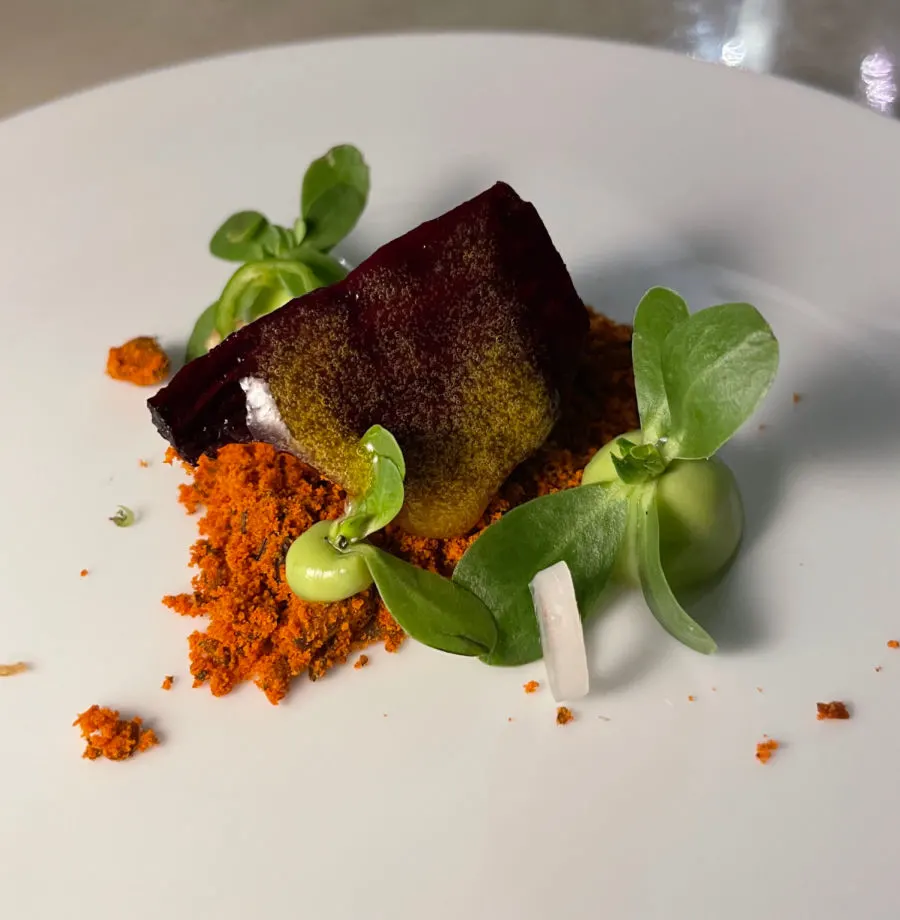 Cons:
Every resort has things people love, and no matter how incredible it is, there's always a few mentions on the con's list.
Signing the bill
If you've been to an all-inclusive resort before, even if your food and drink is included, many times they make you sign a bill to authorize the 'zero' charge. However, this has become a thing of the past for most new resorts in Mexico. Some brands have done away with any kind of bills or signing completely, while others simply have the waiters scan an RFID bracelet with a tablet. While the Garza Blanca is using tablets to help their waiters input orders, they are still on the old paper bill system.
The problem with this system is it creates a lot more work for waiters who have to walk to print the bill, walk to the guest to have them sign it, and walk back over the counter to drop it off. It can slow down service, especially when the resort is at full capacity. The other issue is the guest experience. Let's say you're at the pool and you want to go change for dinner, you'd have to wave down your server, request the bill, wait for him to go print it and bring it back to you, etc. before you can leave. It does remove some of the luxury element to the stay.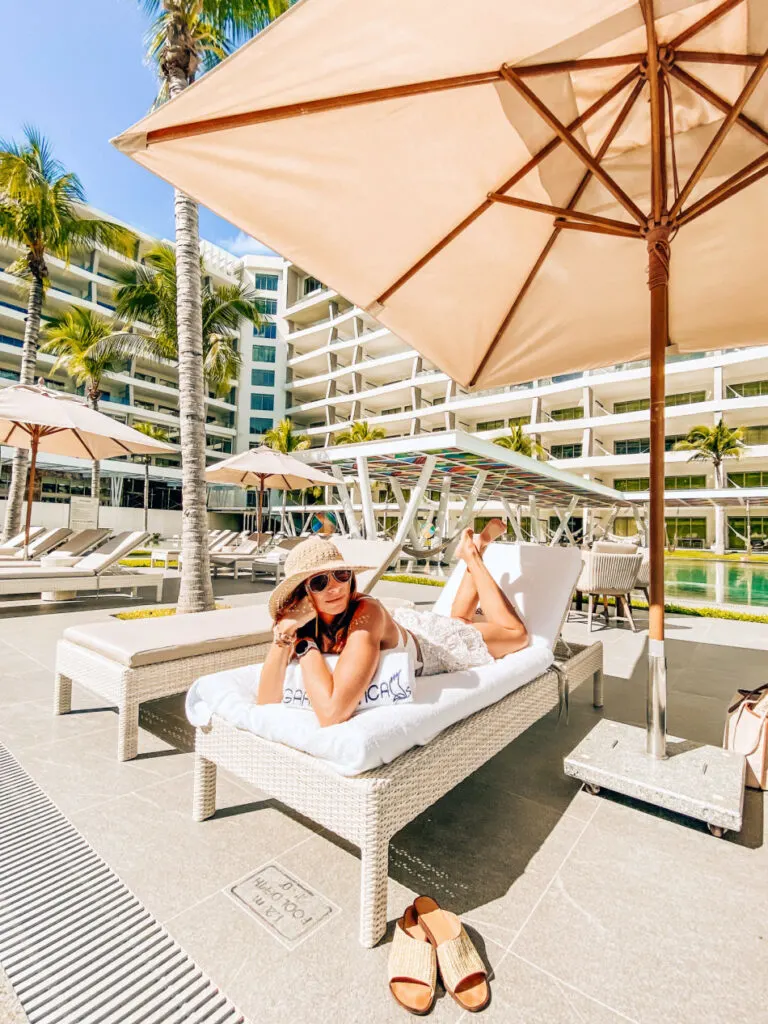 Main pool lacking a bit of vibe
While the main pool is drop-dead gorgeous, it was lacking a bit of vibe compared to other high-end Cancun resorts. We're not sure if this was because we visited during the soft-launch in Dec 2021 or not, but the pool could benefit from some slightly more lively music and perhaps a few more activities.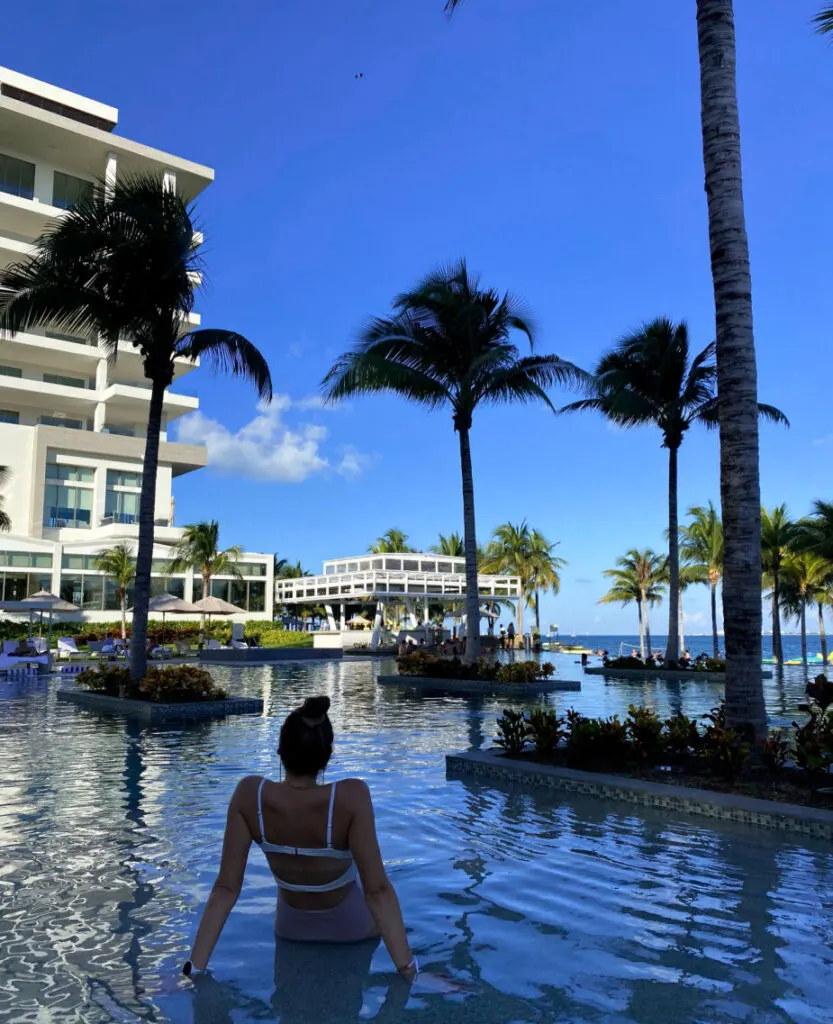 Green sheer curtains in rooms
While this might seem like nitpicking, I wanted to mention it, as it was an instant con in my book. The rooms are so sensationally appointed and so extremely luxurious that I found the lime green sheer curtains to detract from the high-end ambiance of it all. They add a tackiness that is simply not true of the rest of the suites.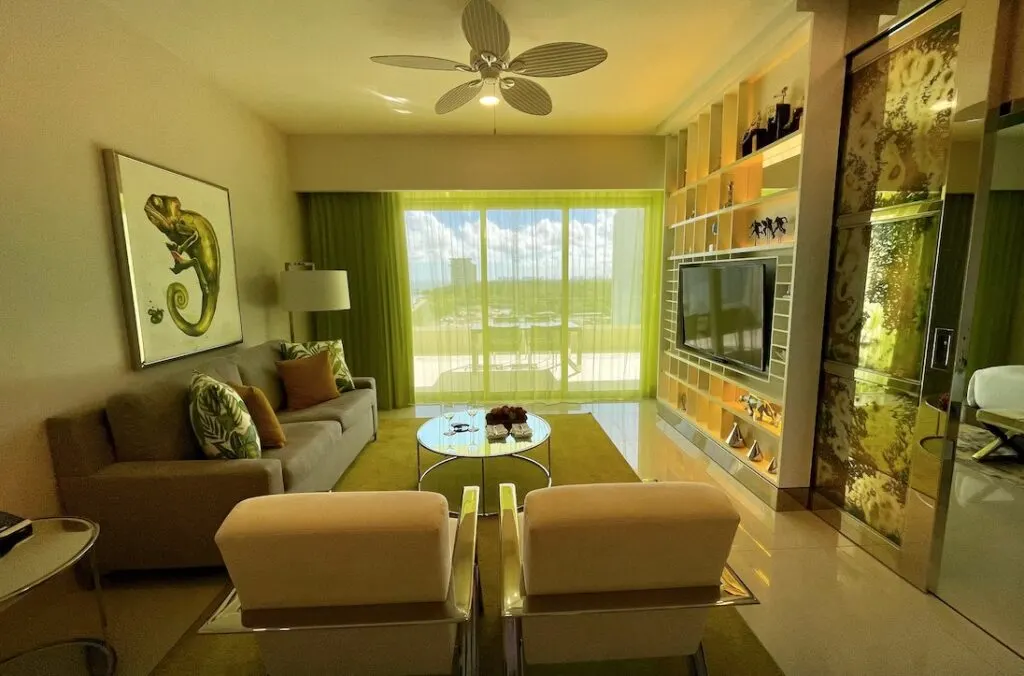 Construction nearby
We visited in December 2021 when the hotel was in soft-launch status. The main lobby, spa, rooftop pool and 3 of the 5 restaurants were still under construction but have now opened as of late-December. While the resort itself may no longer be under construction for your visit, they will still be constructing their sister resort next door, the adults-only Mousai. This hotel is scheduled to open in 2023, and while it's not directly on the property, guests should be aware of the cranes and potential noise over the next year.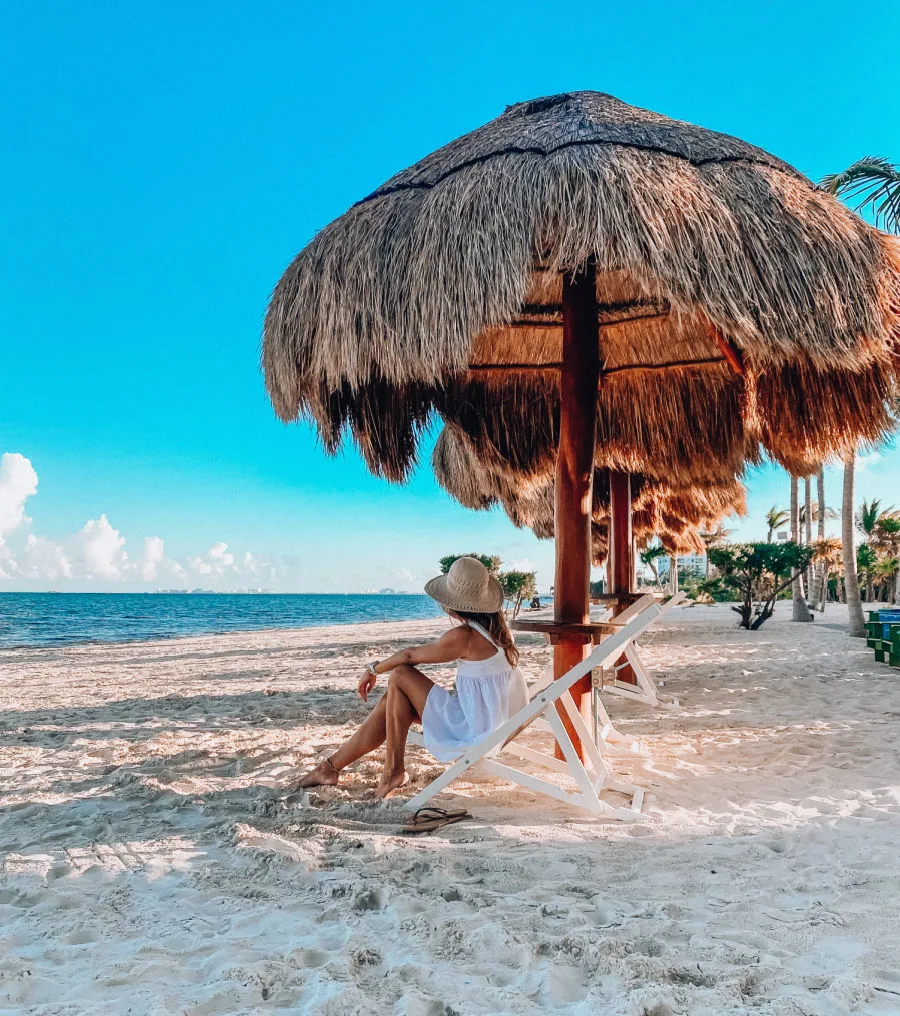 In Summary:
The thing that stood out the most during our stay at Garza Blanca Cancun was the attention to detail. You can tell the difference between a resort that solely cares about making a profit, as the spaces feel empty, cheap, and soulless; where the Garza Blanca feels lavish, glamorous, and welcoming. This is true whether you're in the grand lobby, the spa, poolside, or in the comfort of your suite. It's impressive no matter how many hotels you've stayed in.
The second standout was the service. The group that owns Garza Blanca, Tafer Resorts, has some impressive experience as luxury hoteliers and it shows with how they've trained the staff. While the resort is new, the staff are not green.
Thirdly, any resort that offers drinks and food can call itself 'all-inclusive', and in the Cancun area, there are hundreds of options, but trust me when I say they are not created equally. Anyone who is looking for an all-inclusive that truly lives up to the name, Garza Blanca Cancun will deliver.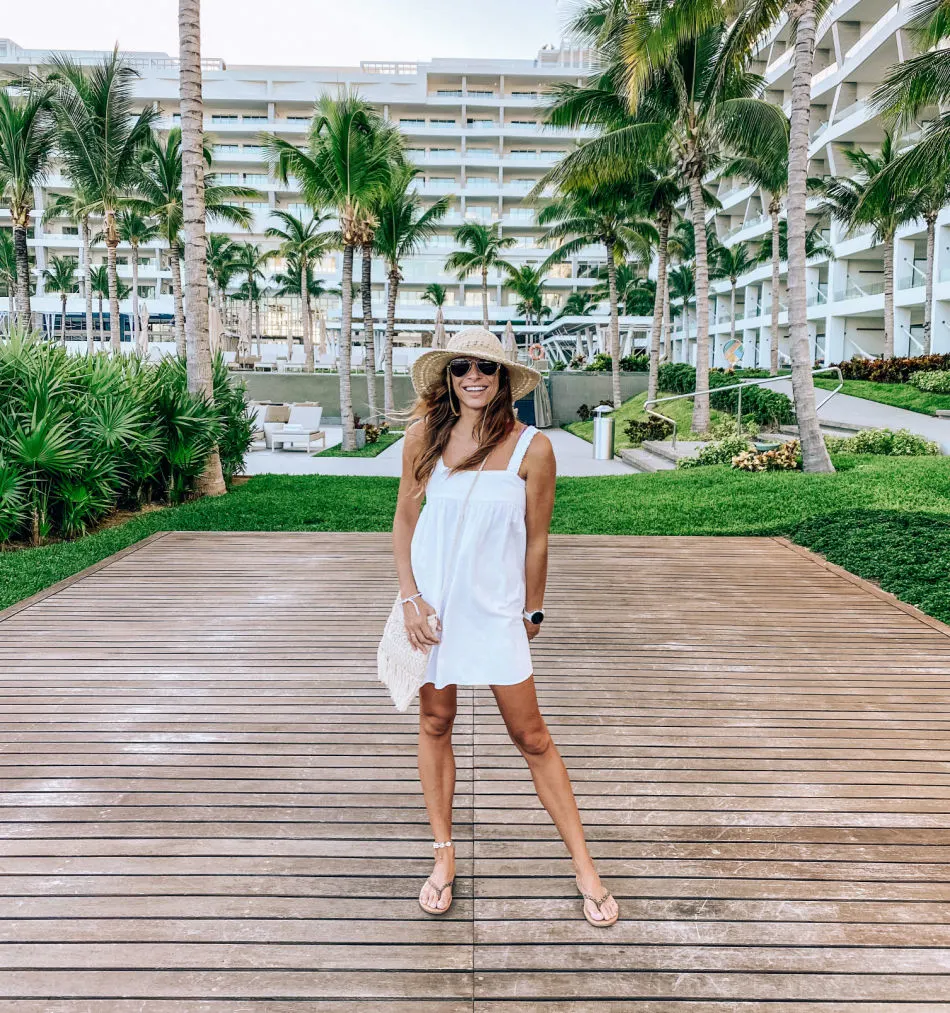 Want to see what our stay was like in real-time at the Garza Blanca Cancun? Check out Kashlee's Instagram Stories for the videos.
Prices
On their 'Deals and Offers' page they state prices for base rooms start at $273 USD on the all-inclusive plan, per person. In the 1-bedroom suite, like the one we stayed in, rates start around $380 USD on the all-inclusive plan, per person.
The Cancun Sun's stay was provided by Garza Blanca but this article is in no way sponsored and our thoughts and opinions are our own.
Plan Your Next Cancun Vacation:
Traveler Alert: Don't Forget Travel Insurance For Your Next Trip!
Choose From Thousands of Cancun and Riviera Maya Hotels, Resorts and Hostels with Free Cancellation On Most Properties
---
↓ Join the community ↓
The Cancun Sun Community FB group has all the latest travel news, conversations and tourism Q&A's for the Mexican Caribbean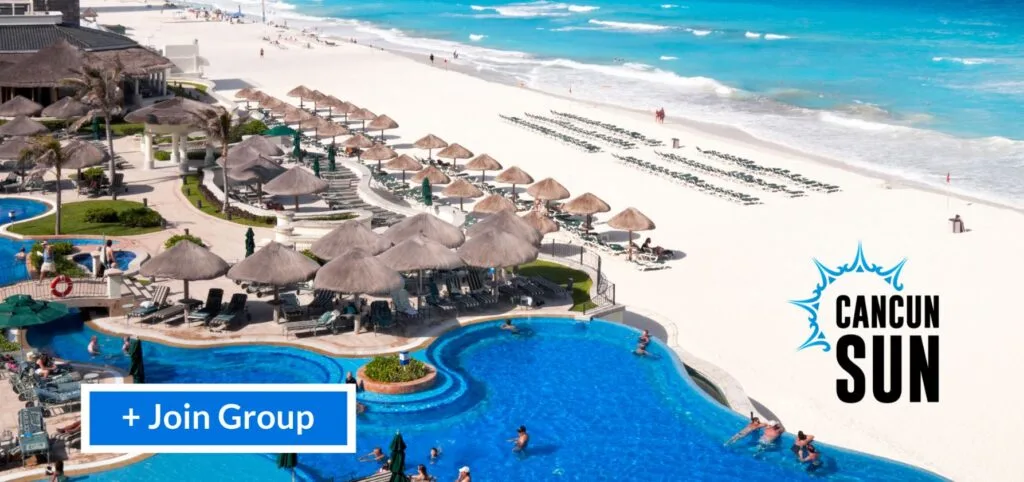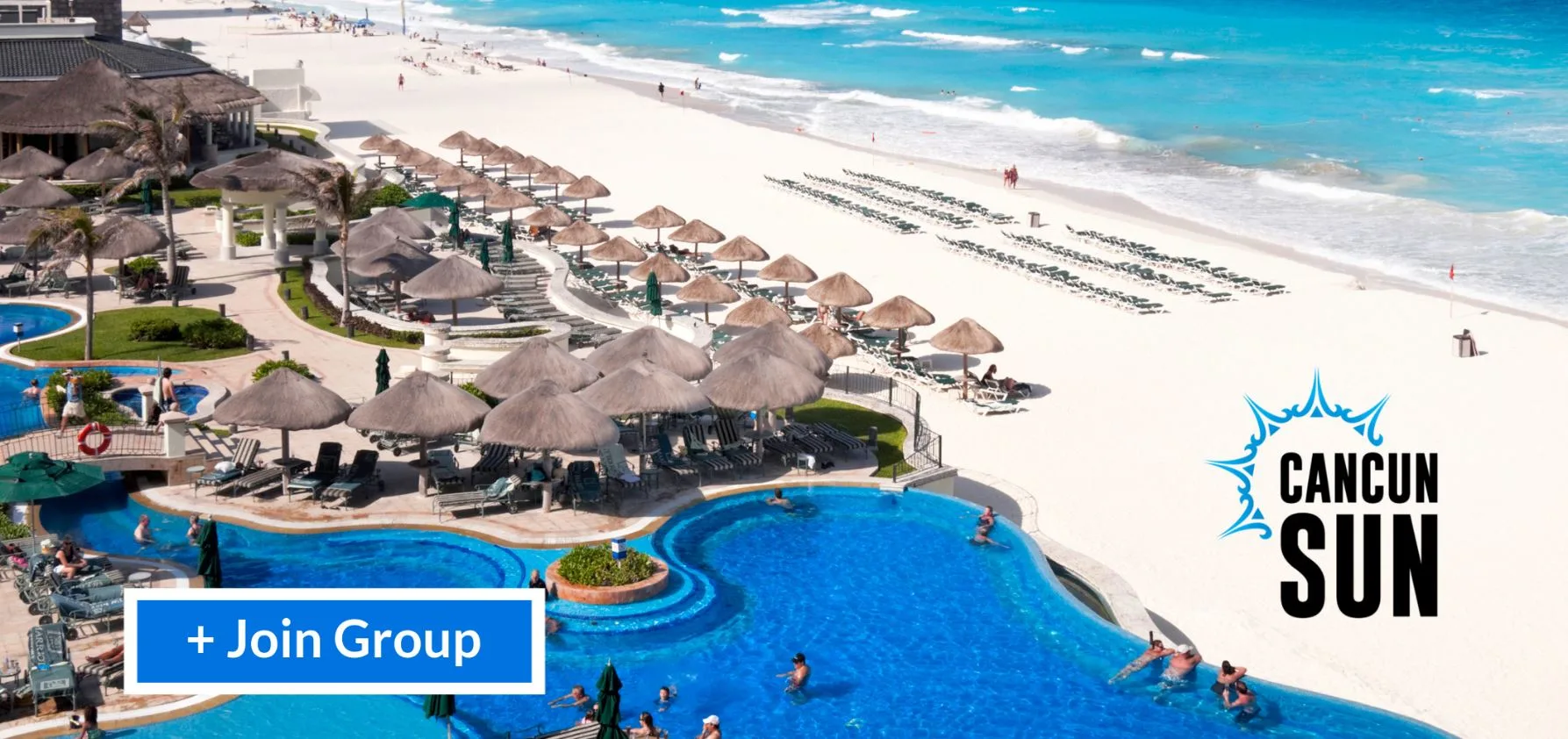 Subscribe to our Latest Posts
Enter your email address to subscribe to The Cancun Sun's latest breaking news affecting travelers, straight to your inbox.
---