Last Updated
The Hilton Cancun, one of the most anticipated new hotels in the Riviera Maya, is now open and providing guests with the kind of luxurious and relaxing vacation expected from a famous hospitality brand.
The Cancun Sun had the opportunity to stay at the new Hilton Cancun, an All-Inclusive Resort, and try out everything from the rooms to the pools, to the dining – all so we can share our findings with you. Our review below of the Hilton Cancun gives travelers all the details, including the pros and cons of the property, what makes it different from other Cancun hotels, and if this is the right resort for your next vacation.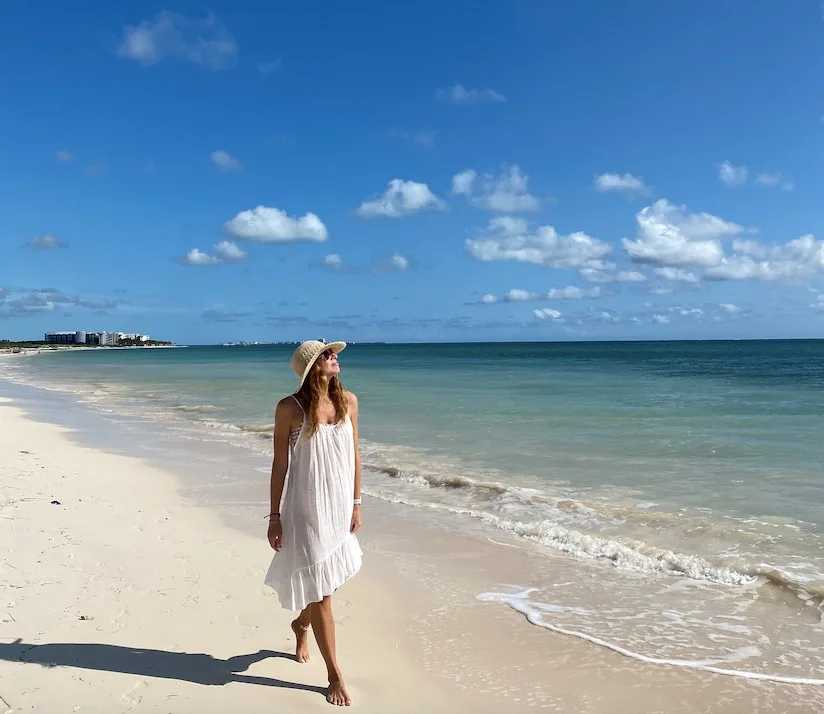 Hilton Cancun Quick Facts
Year Opened: 2021
Rooms: 715 rooms, including swim-out and suite options
Area: 20 minutes south of Cancun airport
5 speciality restaurants with 12 dining experiences
5-star rating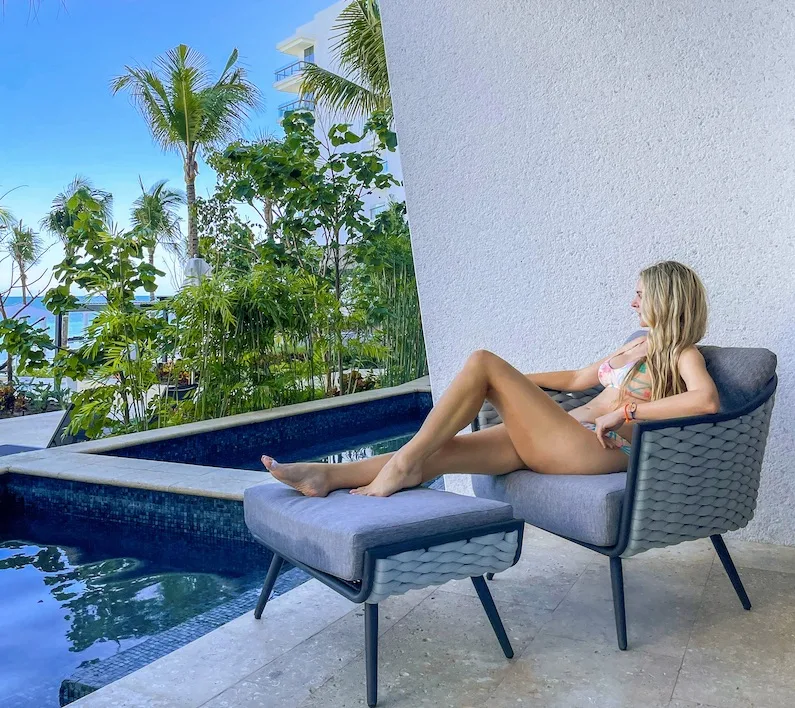 Who Hilton Cancun Is For:
Couples looking for an easy, quality vacation
Families with kids
Loyal Hilton Honors members looking to redeem or collect points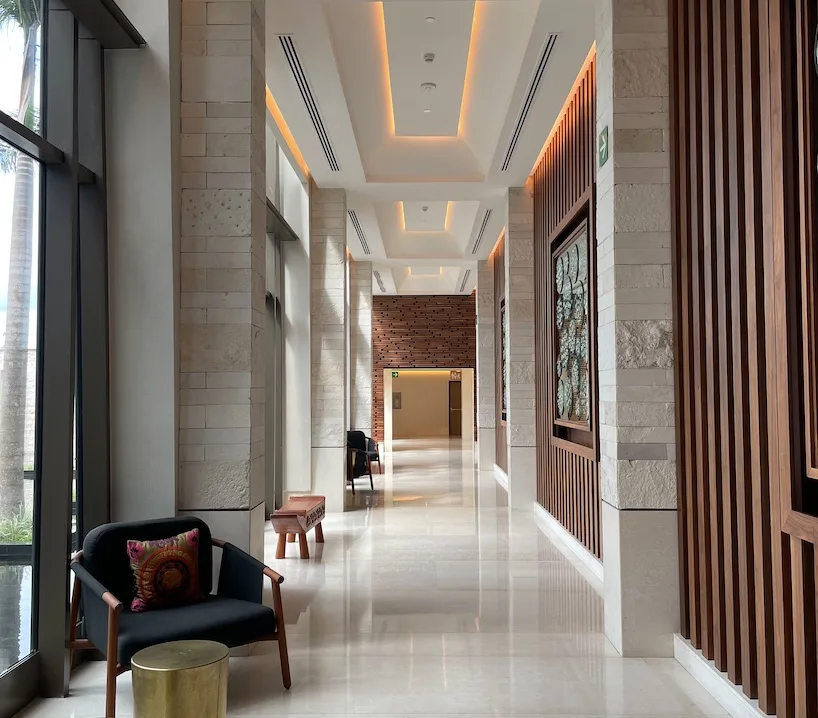 Couples, especially ones who don't want any negative surprises on their vacation or honeymoon, will appreciate the familiarity, quality, and standards at the Hilton Cancun. Since this is such a well-known brand, they've put decades of experience into creating and running this new resort, which makes for a stress-free, relaxing vacation. Couples don't have to tempt fate with the unknown of choosing a resort chain their unfamiliar with.
Families will have a blast here because of the kid's splash park and pool, open candy, ice cream, and churro bar, constant activities throughout the day, and engaging entertainment in the evening. There are lots of things for the whole family to do together, but also the opportunity for adults to sneak away to their own pool if needed.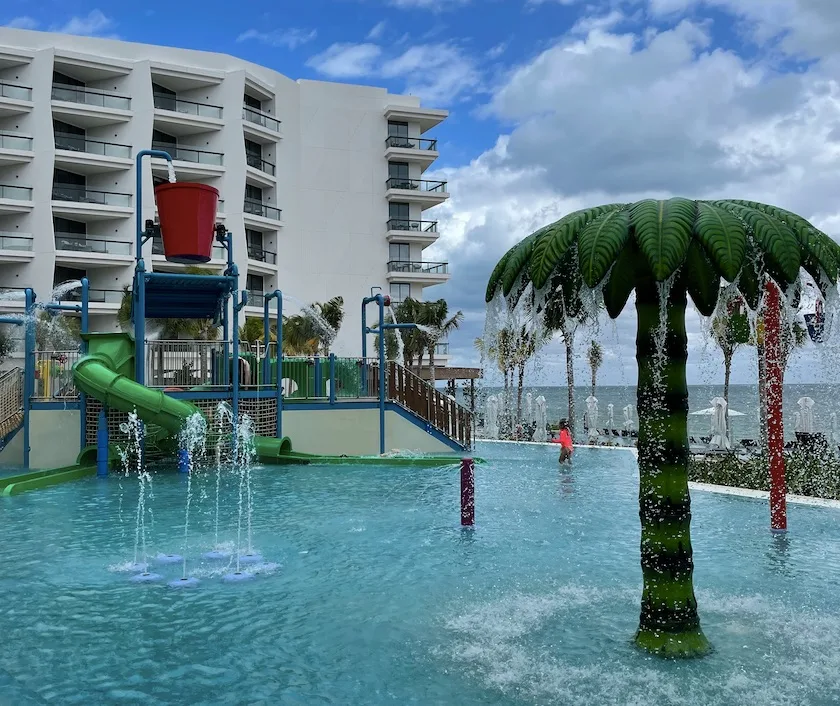 The Hilton Cancun might not be for:
Solo travelers hoping to connect with others
Spring breakers and party animals
Tourists on a strict budget
If you are a solo traveler, spring break party seeker, or have a very limited budget, the Hilton Cancun might not be your optimal property, but of course, there are exceptions to this advice. Solo travelers might still have a good time by themselves, but if they are hoping to meet other single tourists, they might find a lack of opportunities to do so. Spring breakers and party animals won't find that type of vibe here and should look towards hotels with beach parties and large on-site discos. Also, tourists on a strict budget that are hoping to get a week-long all-inclusive vacation for under $1000 should look towards 2 and 3-star resorts, instead of the Hilton. While the Hilton does have some great value in comparison to other resorts, especially new ones, it's not the cheapest guy on the block.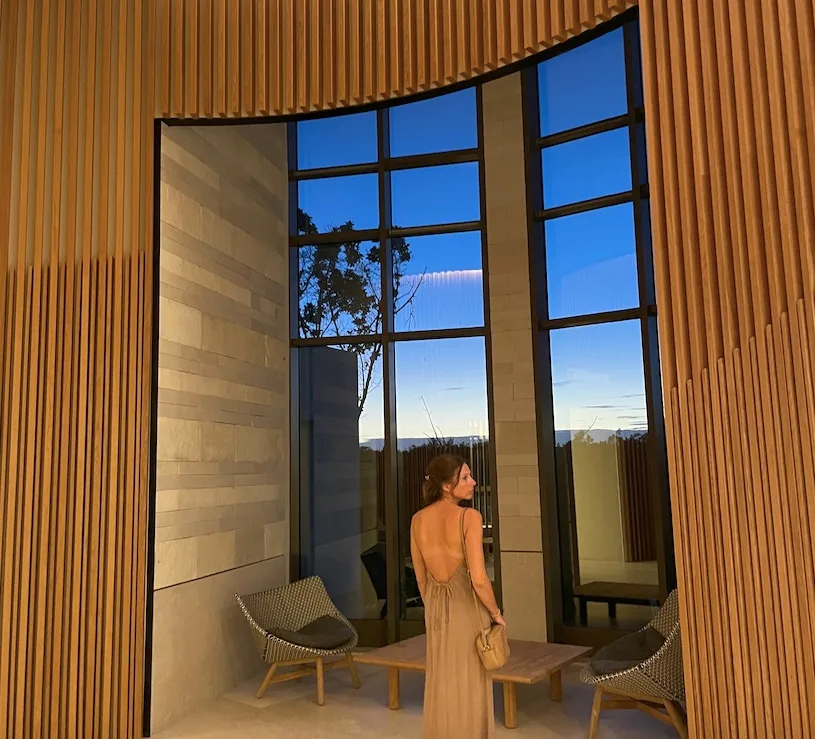 Types of Rooms Available at the Hilton Cancun
The Hilton Cancun has a lot of different room types, depending on budget and needs. The most basic is the Nature View rooms, which look out onto the mangrove reserve behind the hotel. This layout and size of room can be upgraded to an Ocean View or Swim-Up room.
Next comes the suites, which either come with an ocean view or a swim-up style that looks onto the pool and in some cases, you can see the ocean as well. These suites have a separate living room with a sofa, tv, and desk, with the bedroom being its own private space. The bathroom also features a walk-in closet. We stayed in a 1-Bedroom Swim-Up Ocean View room, and go into the features of this room below in detail.
The Hilton Cancun also has some higher-end suites, like the Ocean Front Parlour Suite, Ocean Front Master Suite, or the Ocean Front 2-Bedroom Presidential Suite. Some of these suites have kitchenettes, wrap-around balconies, extra bedrooms or bathrooms, or other super-high-end features.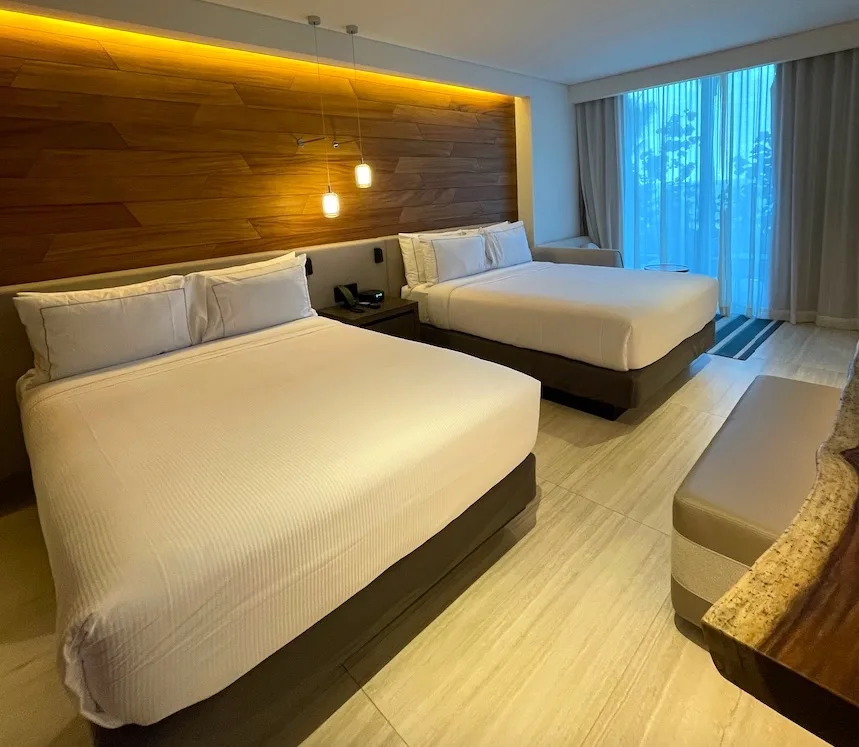 The Room – SWIM UP OCEANFRONT 1 BEDROOM SUITE
830 sq ft
Oversize bathroom with double sinks and walk in closet
Ocean views from room
Swim out pool from balcony
Extra half-bath in main area of suite
L-shaped couch and large TVs
Nespresso machine and eco-friendly water bottles
This spacious suite is perfect for couples or friends traveling together that want some extra space. The areas are brand new, feature colorful Mexican art, and are creatively designed by HBA San Francisco.
The separate living room and bedroom make the suite feel more like an apartment than a hotel room, especially with having the extra half-bath near the front door. The living room has both an area to work from (because let's face it, who's not still working from home these days), plus a large sofa to relax on, was a nice bonus.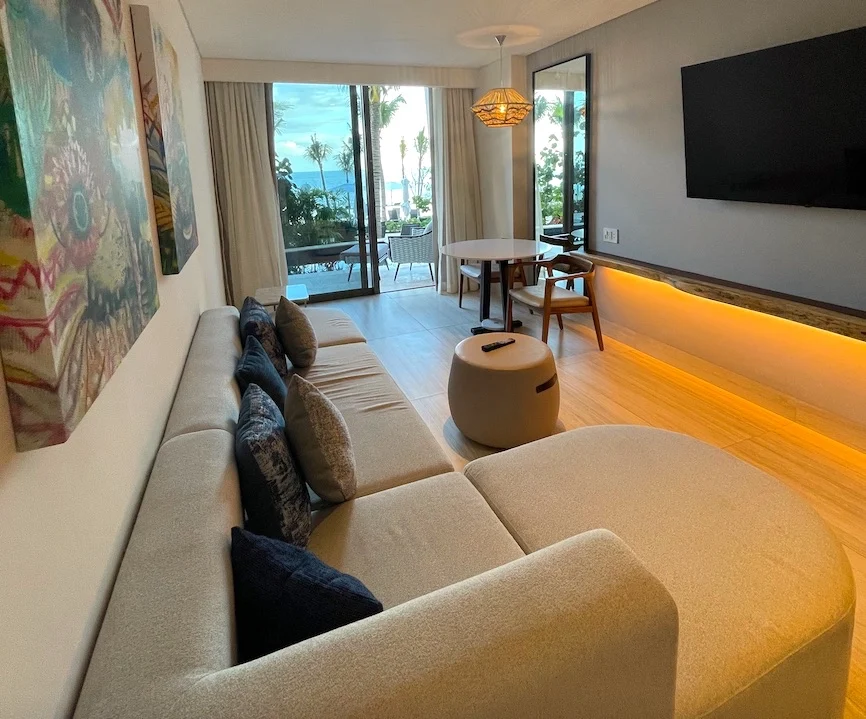 The bedroom even had its own sitting area with a mini-sofa and table right near the large sliding doors to the patio. I specifically liked the wood detail behind the beds and how it harmonized with the wood shelf under the TV. It brought some warmth and coziness to what otherwise would have been a stark hotel room.
The bathroom is impressively large and has double-sinks, mirrors with built-in backlighting, plus a walk-in closet area with tons of room to hang clothes. 2 frosted glass doors will lead you to either the toilet room or the shower room, both of which have privacy, which is important to note because many hotels in the Cancun area have strange peek-a-boo shower or toilet areas.
One of the most extraordinary parts of this suite is the outdoor area. The balcony has 2 sitting chairs, a larger lounge-type chair with extra cushioning and an upholstered ottoman, a beautiful view of both the pool and the ocean, plus a semi-private swim out plunge pool directly off the balcony. While the pool itself is private in the sense you don't share water with any other room, you can still look upon the other swim-out suite pools, which is why I classified it as semi-private. They were not heated when we stayed in February 2022 but were told they plan to heat them in the future.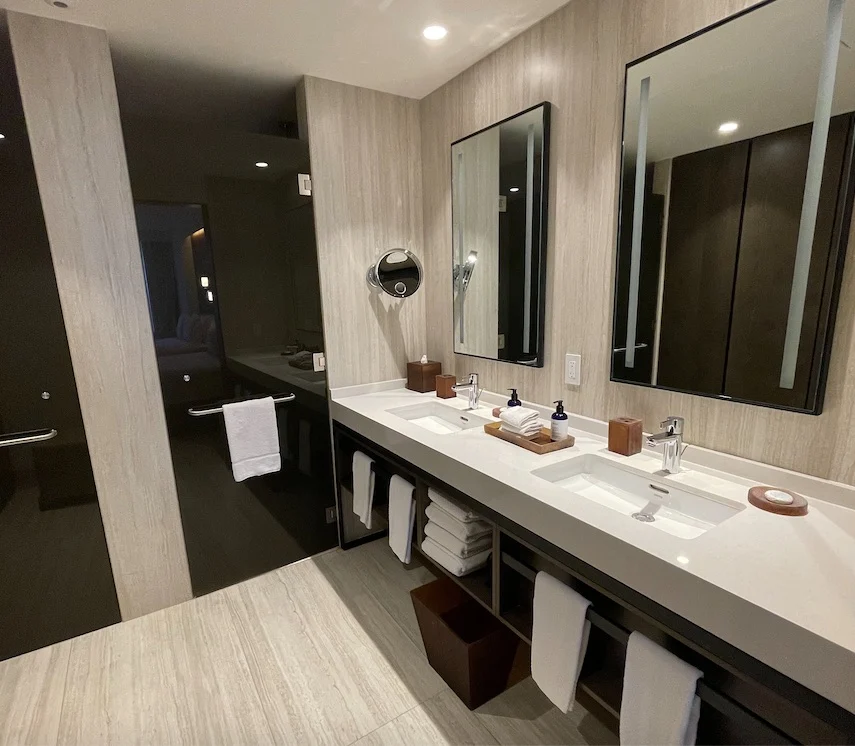 Benefits of a Swim-Out Room
I personally love swim-out rooms, and I will book them anytime I get a chance. Not only do you get the same patio or balcony as everyone else, but you get your own pool as well. The benefit of having your own mini-pool goes far beyond what people might even consider. You don't have to go searching for a space by the pool during high-season if you don't want to, you can have coffee or order food and drinks to your room to have a more private experience, and it adds tons of ambiance to your outdoor space.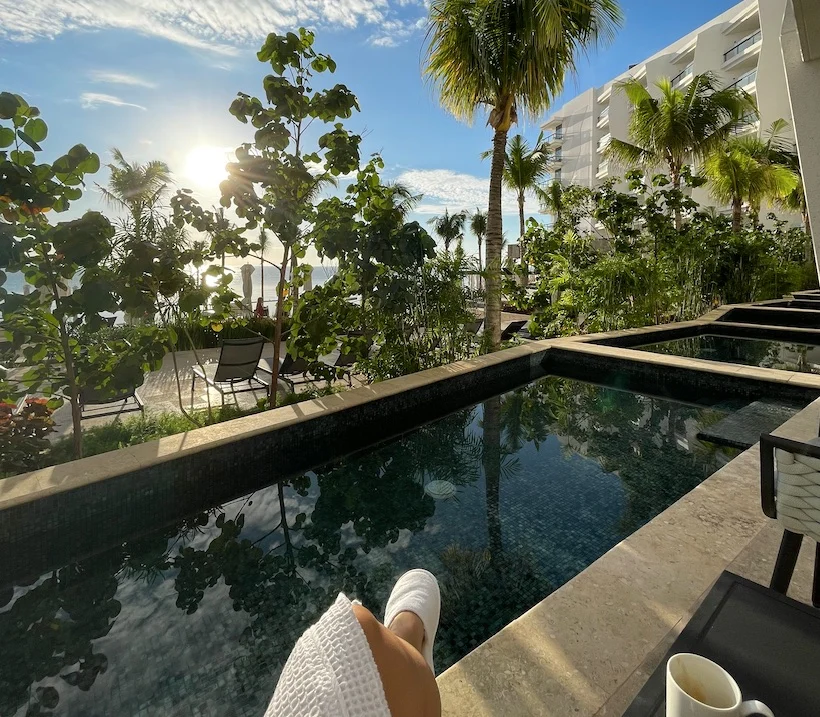 PROS and CONS of Hilton Cancun
PROS at a glance
New modern design, minimalist rooms, and impressive common areas
Very close to the airport, only 20 minutes
Astonishingly great service level from staff
Delectable vegan and vegetarian options (best vegan pizza of life)
Affordable luxury
No need to sign 'bills'
Cool 'Grab and Go' snack bar in lobby
Food in general was very good and high quality
Beautiful main inifity pool with incredible ocean and beach views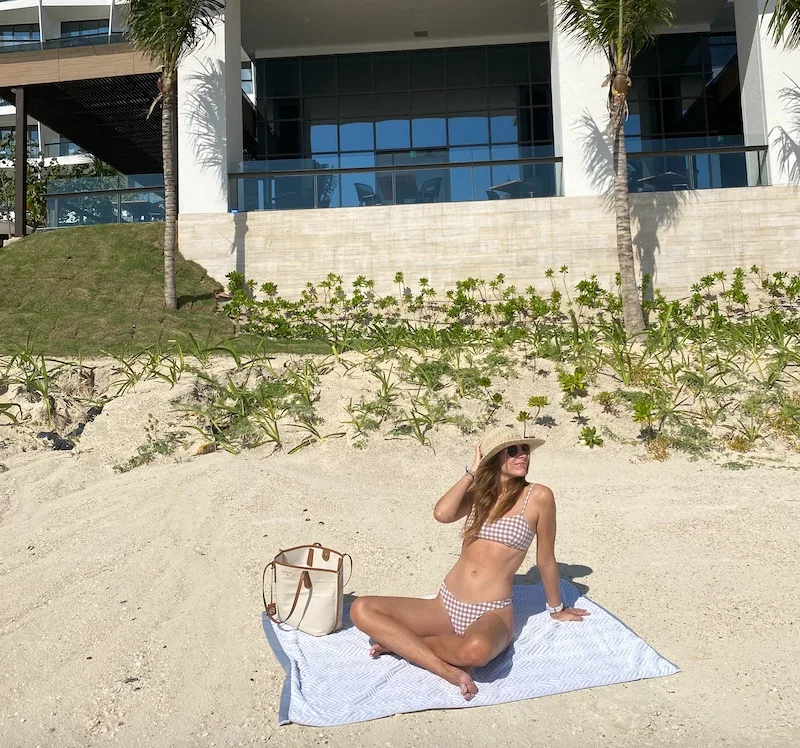 What makes the Hilton Cancun different than other Cancun resorts
Unique Dining Experiences
I am so happy to be able to mention how great the food was here, along with the ambiance of the swanky new restaurants on-site. There are some very unique options at this resort that make you feel more like you're dining at a trendy restaurant in a big city, rather than at an all-inclusive property.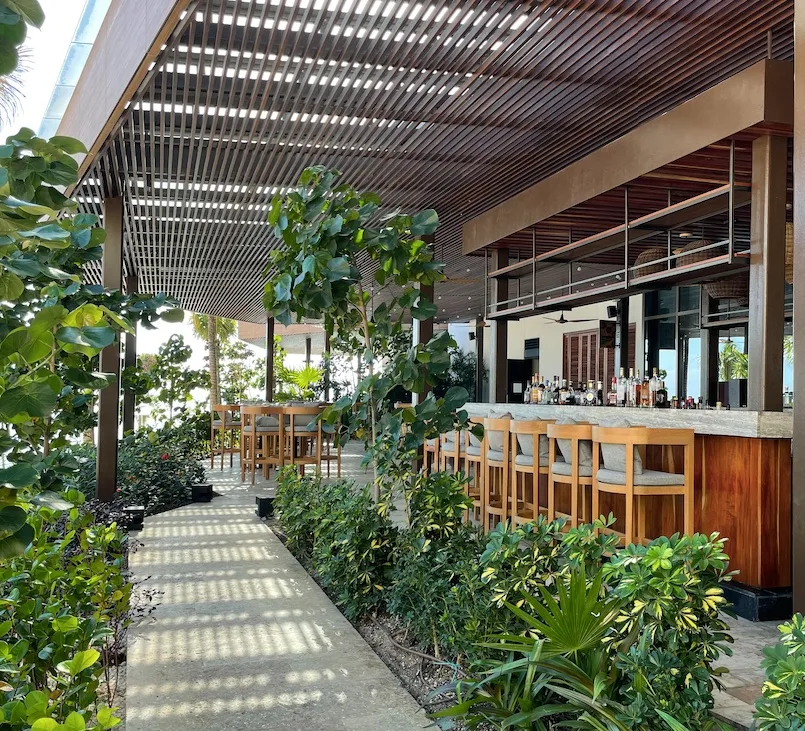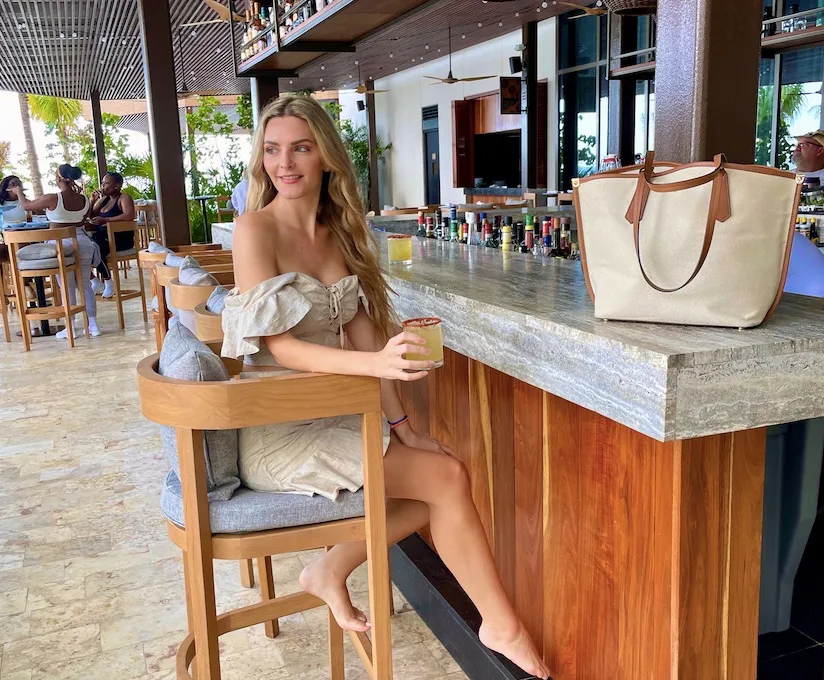 They have a phenomenal taco and mezcal bar located beside the pool that is open for lunch, and by night it turns into simply one of the most stunning Mexican restaurants I've ever seen, Damiana, with great options for meat lovers and vegetarians alike.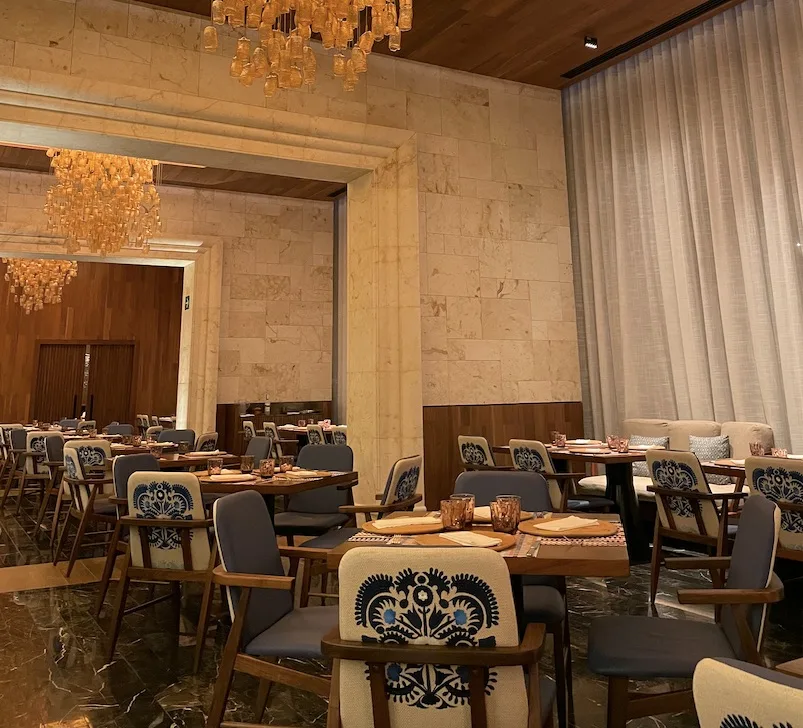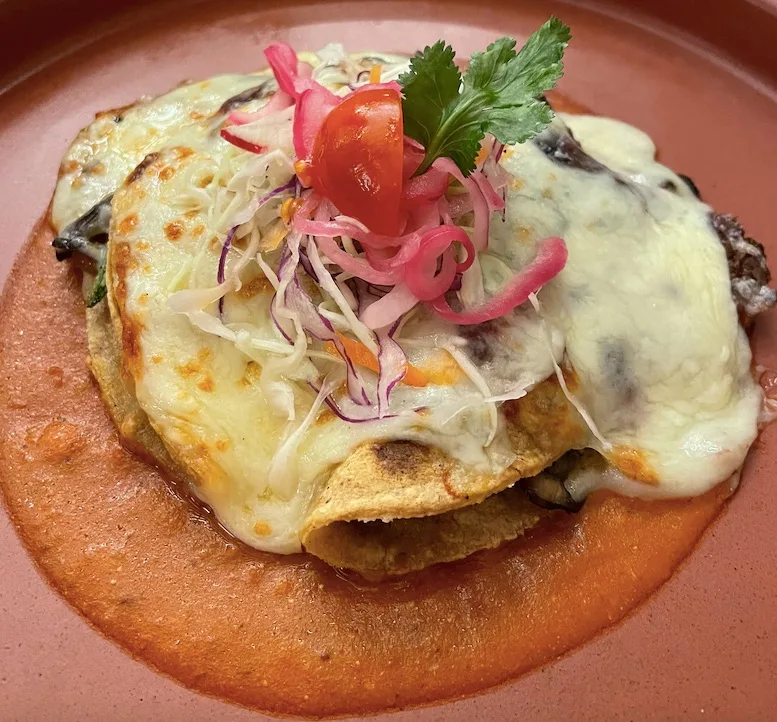 For lighter afternoon fare, they feature fresh sushi and Asian snacks from the outdoor area of Sunan, which is the perfect beach-side venue.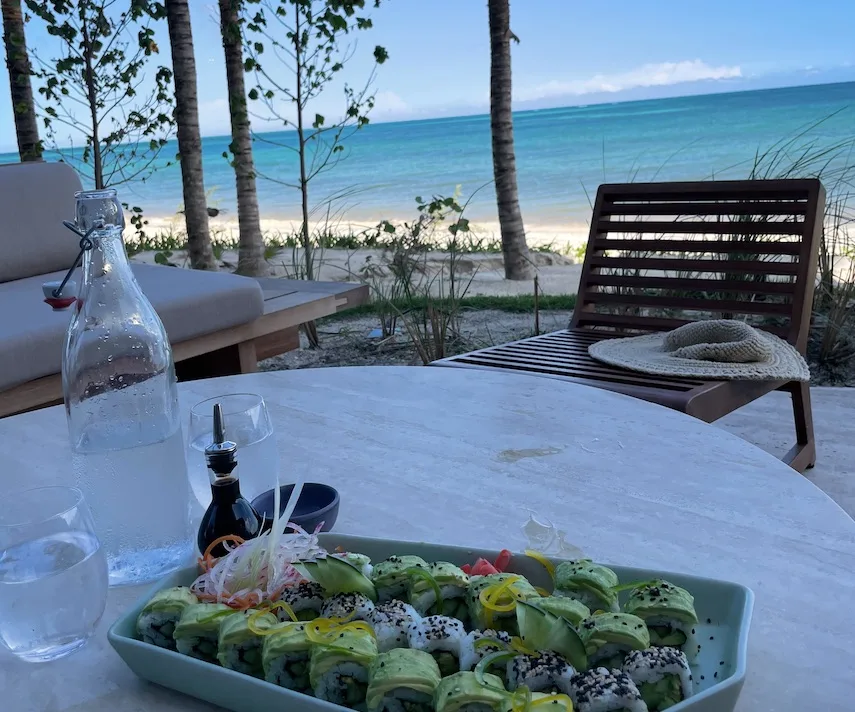 At Auma, the steak and grill house, we opted for a vegetarian platter and some vegan comfort food with a veggie burger and curly fries. However, the majority of meat-loving guests will be pleased to see their favorite cuts of steak on the menu, along with grilled fish and other protein-packed plates.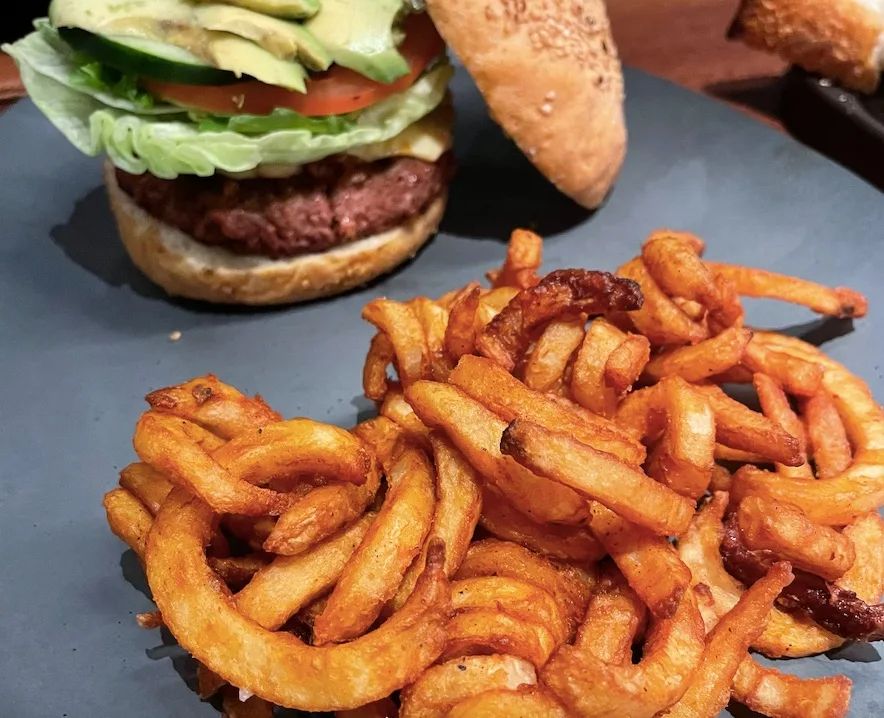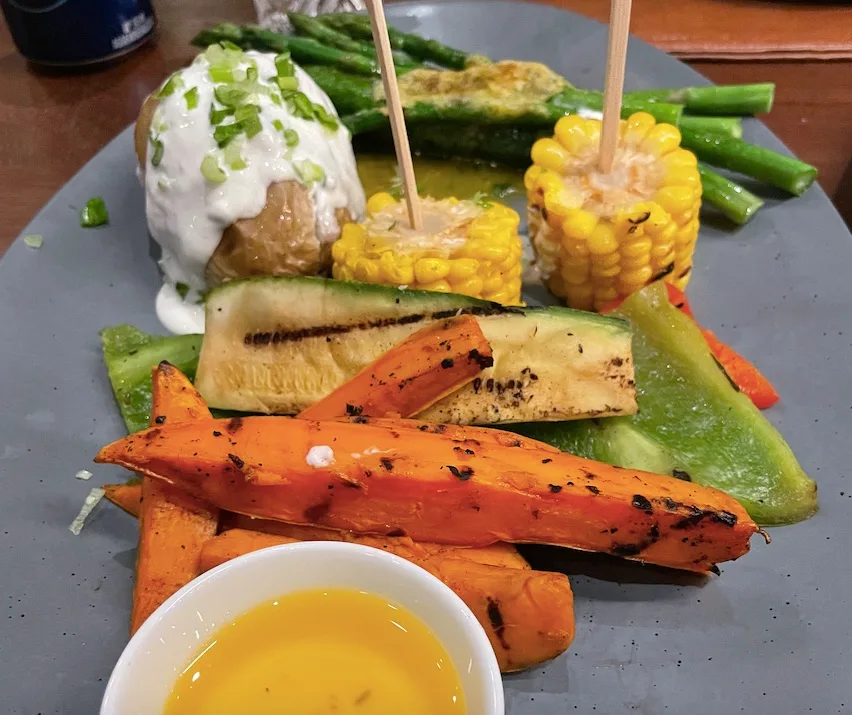 Vegan, vegetarian and healthy options
Another claim to fame the Hilton has is with the healthy, vegetarian, and vegan options. While I'm not fully vegan, I do eat a mostly vegetarian-based diet, and whenever I'm reviewing hotels I love to see how far they've come with meat-free options.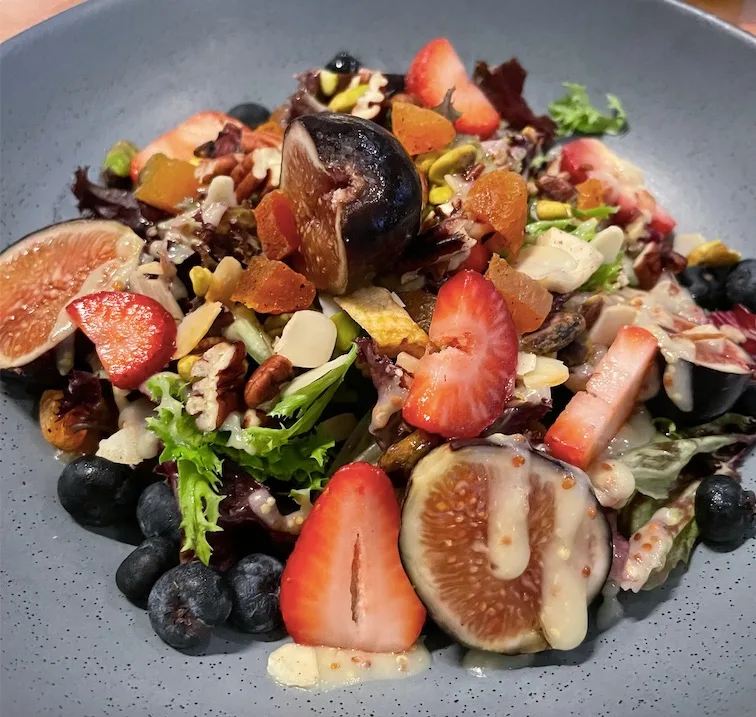 It all started at breakfast when I noticed they have oat, soy, almond, and coconut milk when many other resorts haven't jumped on the dairy-alternative wagon yet. While they did have the normal spread of French toast and pastries, there were also many healthy options as well.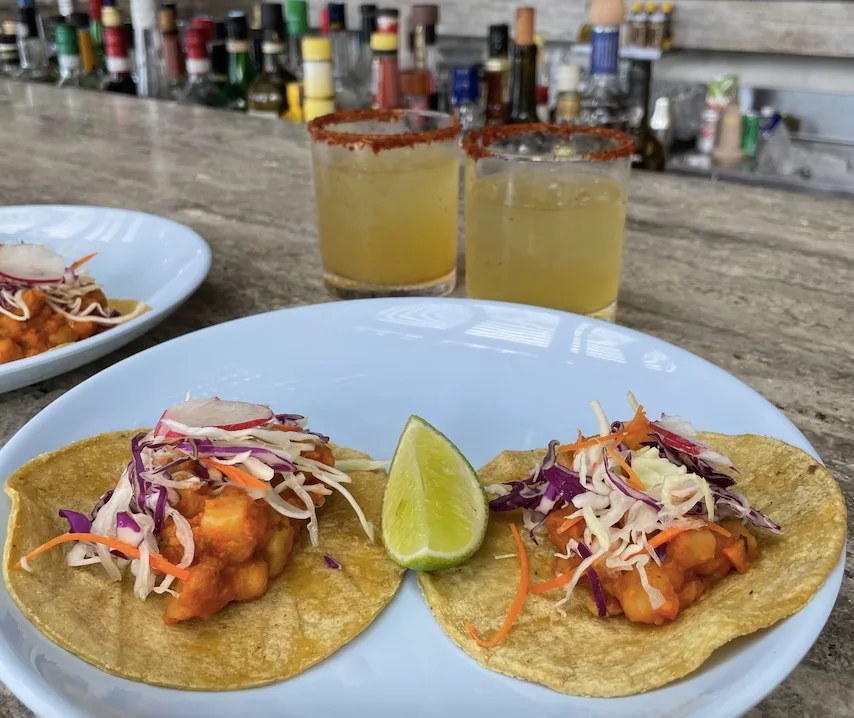 Then came lunch, when we were able to dine on the most amazing vegan tacos, made from sweet potato and chickpeas, paired with chips and fresh salsas.
For dinner, we discovered that La Luce, the Italian restaurant, has their very own FULL vegan menu. Not just one or two options, but an entirely plant-based menu the same size as the normal dining menu.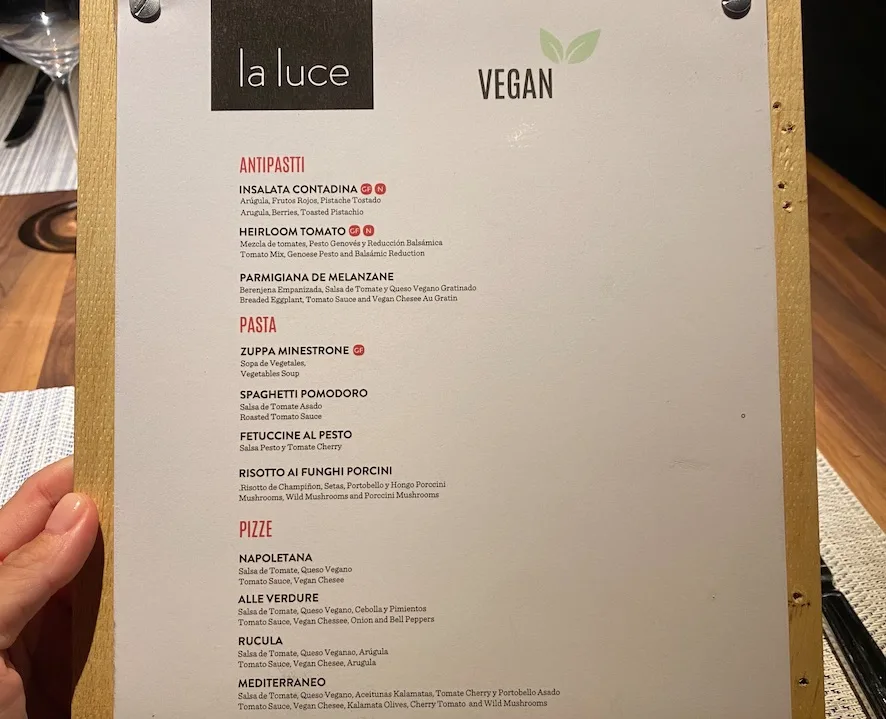 I will say, the vegan 'Rucula' pizza at La Luce is literally, with no exaggeration, one of the best pizzas I've ever had hands down. The vegan cheese is so unbelievably melty and gooey. As I write this, I'm considering booking a trip to the Hilton just so I can get my hands on this pizza. I suggest any guest order it, whether you are vegan or not.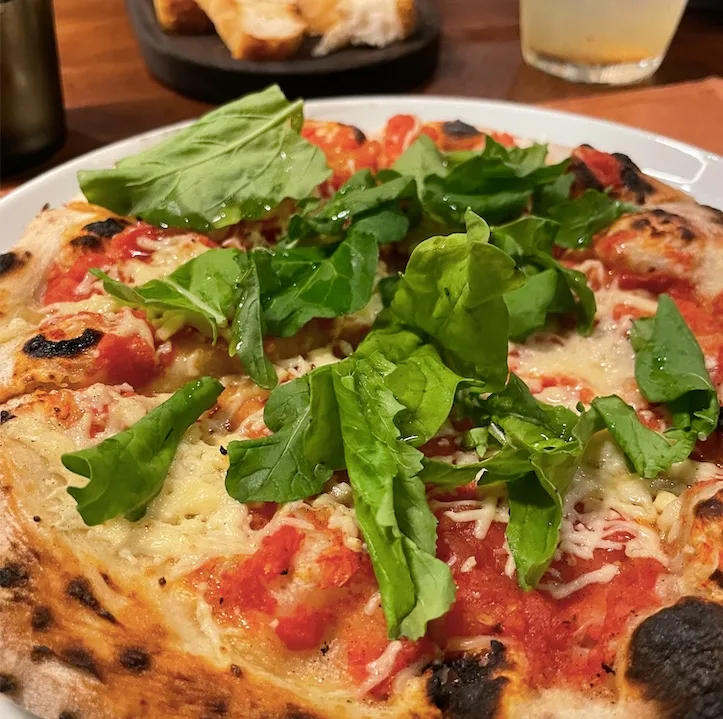 Huge Gym
Some Cancun resorts have the most impressive properties with big rooms, imposing lobbies, and then itty-bitty fitness centers. The Hilton Cancun has one of the most impressive gyms I've seen in Cancun, if not in Mexico entirely.
You can tell they had a team of professionals plan and stock the gym, as the equipment is state of the art, with no lack of machines, weights, and aerobic areas.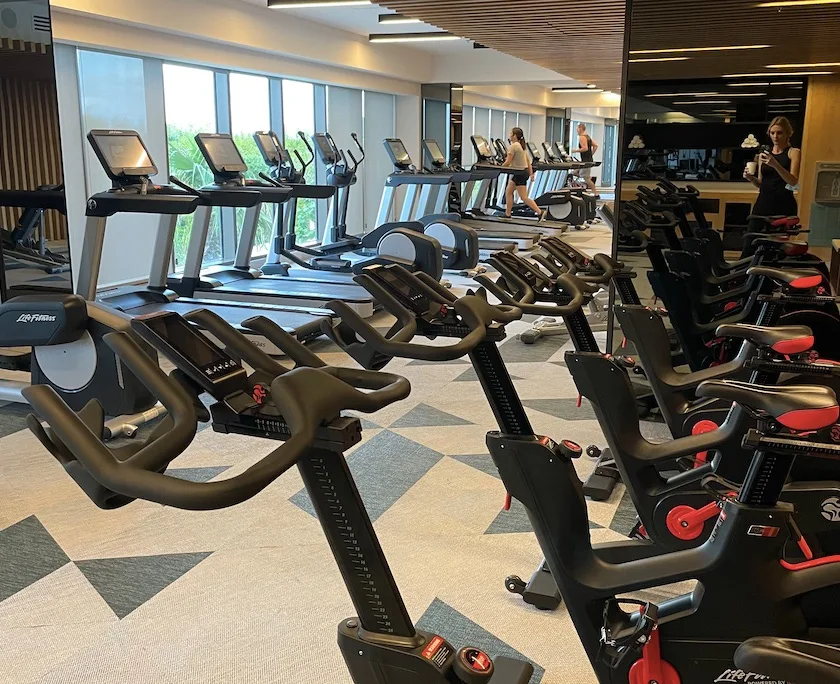 No signing of bills
I'm so glad the Hilton doesn't make you sign a 'bill' when you're done at the pool bar or at any of the restaurants. If you've been to an all-inclusive before, you'll likely have an idea of what I'm mentioning. Many resorts make you sign a pretend 'bill' after ordering things, mainly as an inventory control system at the expense of the guest's time. The Hilton did not implement this system, which makes it very easy for guests. If you've been ordering margaritas at the pool all day, you don't have to request a bill and wait for a server to bring it to you before you go back to your room.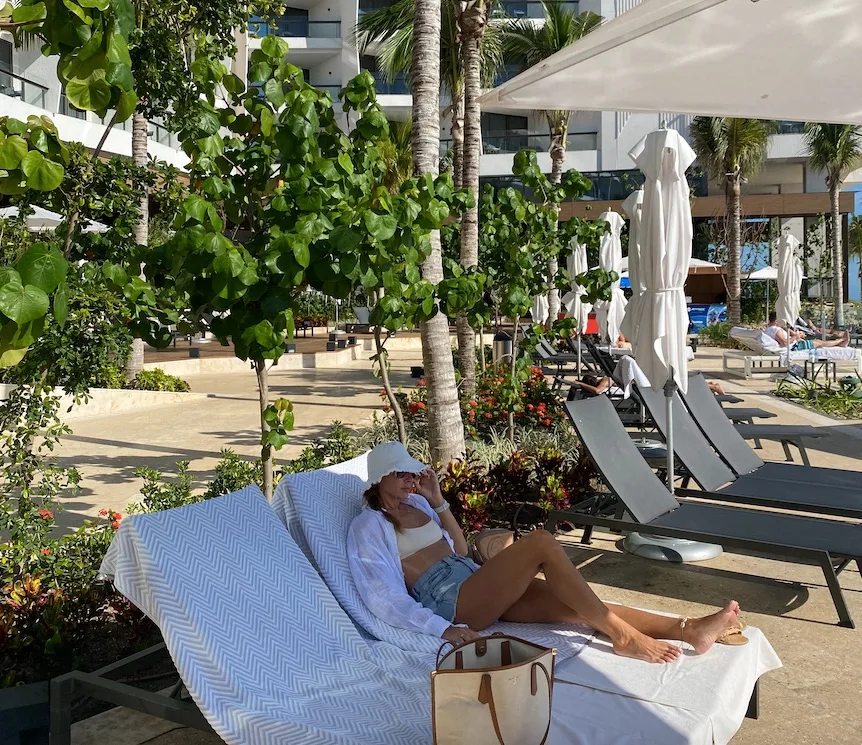 Snacking made easy
This hotel makes it really easy to grab some small plates or snacks in between dining times. Let's say you have dinner reservations for 7:00 pm in La Luce, but it's 4:00 pm and you're a little peckish now. Instead of having to go sit down at a restaurant, or wait for room service, there are better options.
The lobby has a grab-and-go area with everything from veggie crudites, to mini-pizzas, to sandwiches available to eat there in the lobby, bring back to your room, or bring poolside. If you need something super sweet, you can go to their candy bar which has grab-and-go churros, donuts, and even ice cream. I loved having the option to snack when I wanted without having to wait.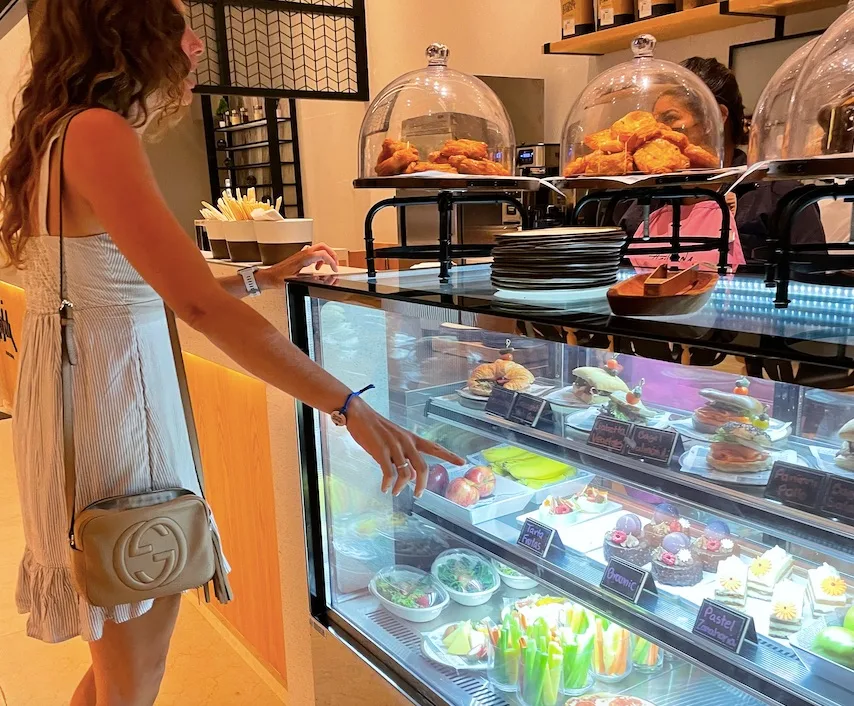 Glass water bottles
Plastic use is a big issue, especially at all-inclusive resorts, which have been known for creating abysmal amounts of waste. Thankfully, the Hilton has implemented a returnable glass bottle system for all the water bottles in the room, and with over 700 suites, I'm sure makes a massive difference in day-to-day operations.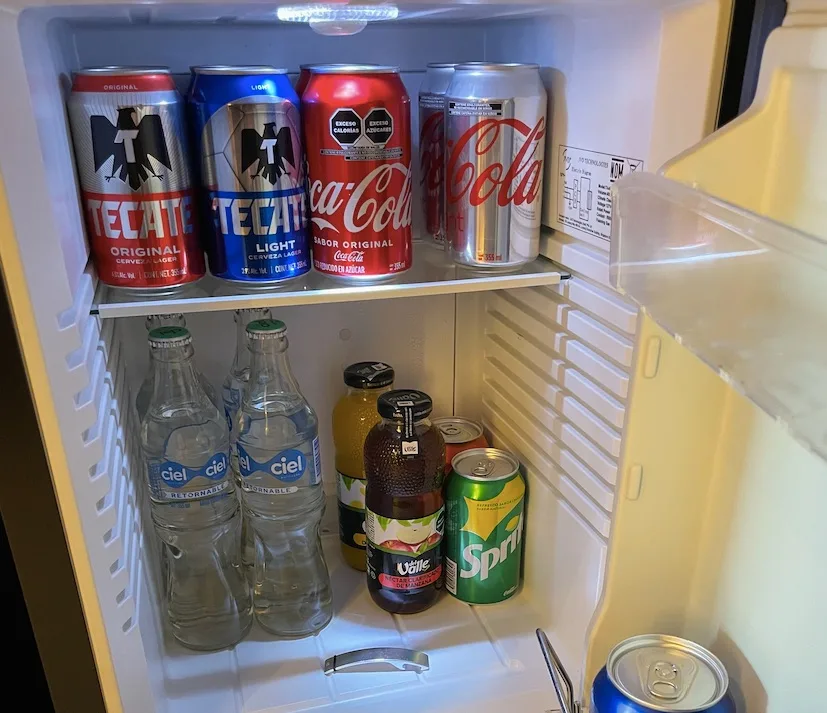 CONS at a glance
Very app dependant
TV's aren't 'Smart'
Lack of bathroom storage
Lack of signage
App dependant
To make reservations, see the room service menu, browse the restaurant menus when dining, see the entertainment schedules, and many more things, access to the Hilton app is required. If you have a Hilton Honors account, you can simply sign in, or request a sign-in email from front desk, however, I found it all to be a little inconvenient.
I realize it's better for the environment and for Covid-related protocols to not print out daily activity schedules or restaurant opening hours, but it's something I still like to do on vacation. I'm trying to get away from my phone, not be even more glued to it than normal. Even a TV channel in the room with the entertainment activities would have been nice, but everything points to the app. Thankfully, I was able to request physical menus while dining in the restaurants.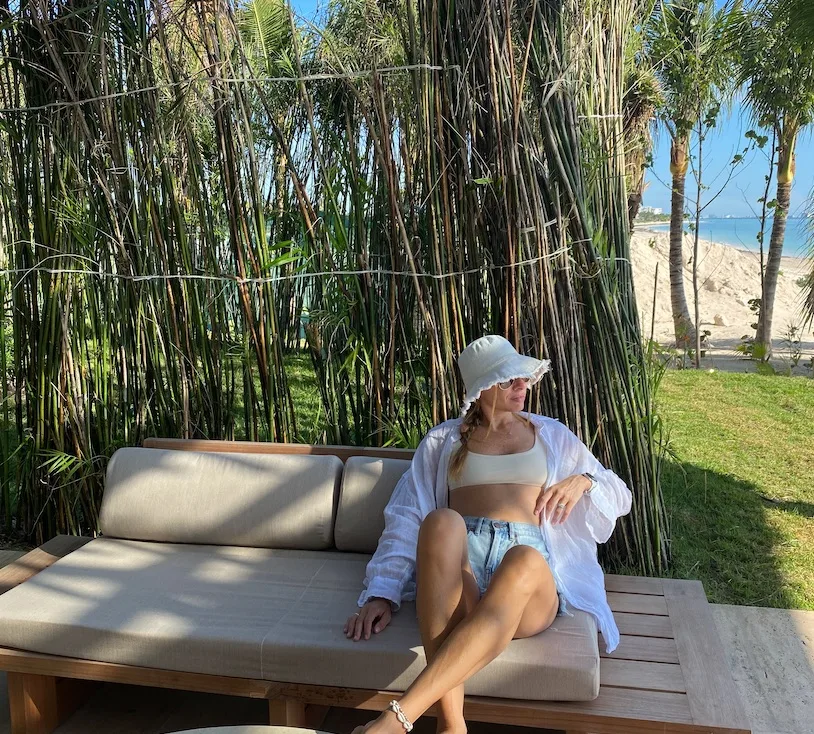 TV's aren't smart
In complete contrast to their very modern app system, the massive flat-screen TVs inside the room are not Smart TVs, which I found shocking for a brand new, higher-end resort. Anyone hoping to stream Netflix before bed will need to bring a laptop or concede to watching it on their phone.
Lack of bathroom storage
While the bathrooms are nice, and in the case of the 1-bedroom suite – massive – they lacked a lot of functional storage. The only real space for anything is the countertop. Under the counters, behind the hand towel rack, it appears there is shelf storage, but the sink pipes are there, so they've put a wooden panel in front, eliminating any storage possibilities. Also below the sinks, there was one cubby, but all the fresh and folded towels go there instead of personal items. I wish they had designed the space with an area for a cubby, drawer, shelf, or really any space to place items instead of only the countertop.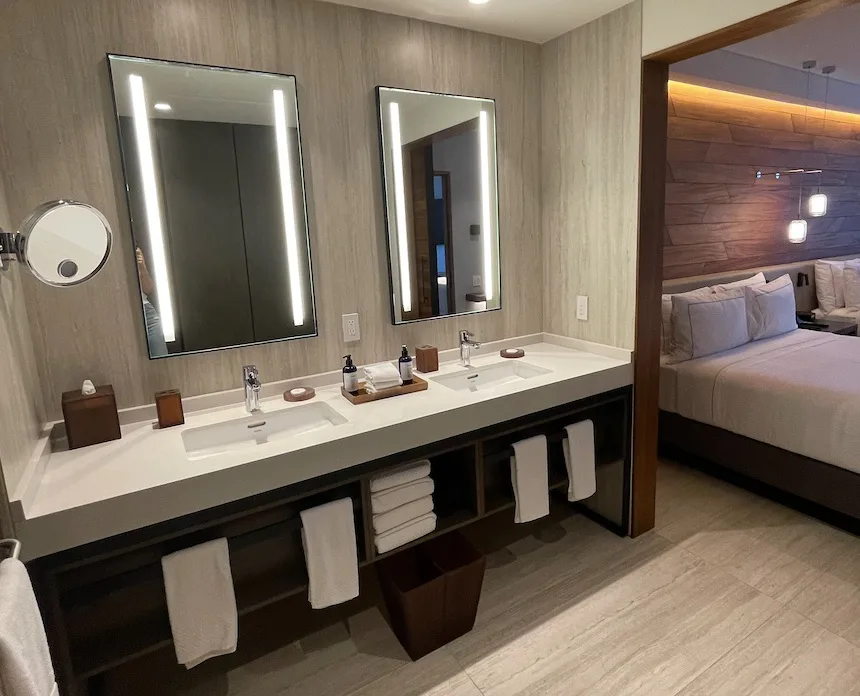 Lack of signage
Since the Hilton Cancun is a new resort, this may be a 'con' that will fix itself throughout the year, but during my visit in February, there was a major lack of signage. I never thought that could be an issue, but it turned out to be a frustration. There were no signs up for where to find the public bathrooms, especially the ones near the lobby. I sort of had to wander around and ask multiple people where to go. The restaurants, while all located in mainly the same area, also didn't have signs, or the signs were so muted you couldn't see them well from the lobby. In addition to the lack of signs, I found the signs that were there to be confusing, especially the room number signs. I actually got lost twice trying to find my room the first time, and for someone that stays in hotels 200+ nights a year, is not something that happens often.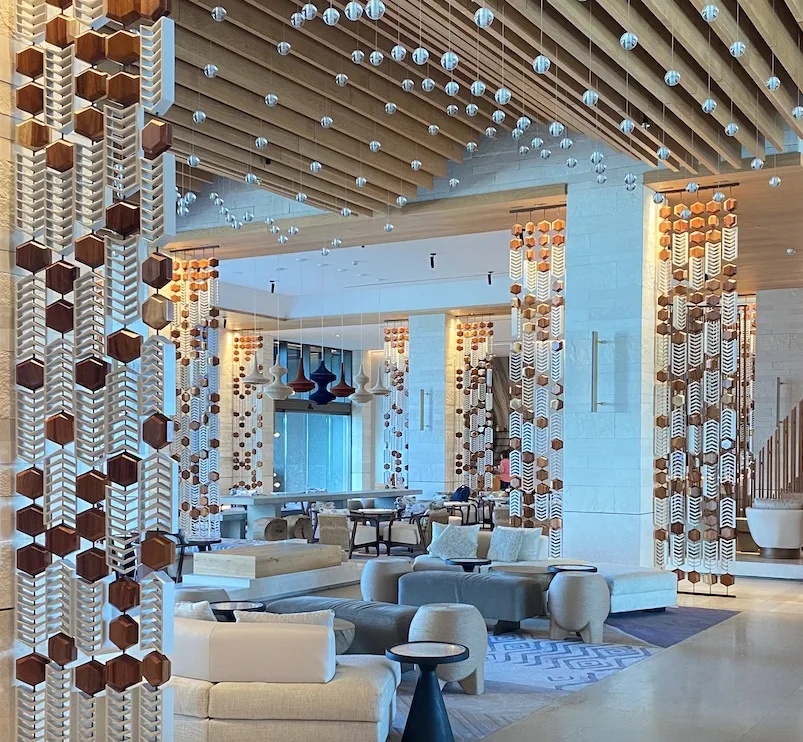 Rates at the Hilton Cancun
Prices to stay at the Hilton Cancun will vary depending on high and low seasons, occupancy rates, and other factors, but here is a general approximate idea of what you can expect. All prices were generated on Hilton's direct site, signed in as an Honors member, using a 1-week time frame for 2 adults.
Nature View Queen (low season) $2000-$2500
Nature View Queen (high season) $2200-$3200
Ocean Front King (low season) $2300-$3300
Ocean Front King (high season) $3000-$4500
1-Bedroom Suite, Ocean View, Swim-Up (low season) $3800-4500
1-Bedroom Suite, Ocean View, Swim-Up (high season) $4500-6500
Check Prices At: Hilton Cancun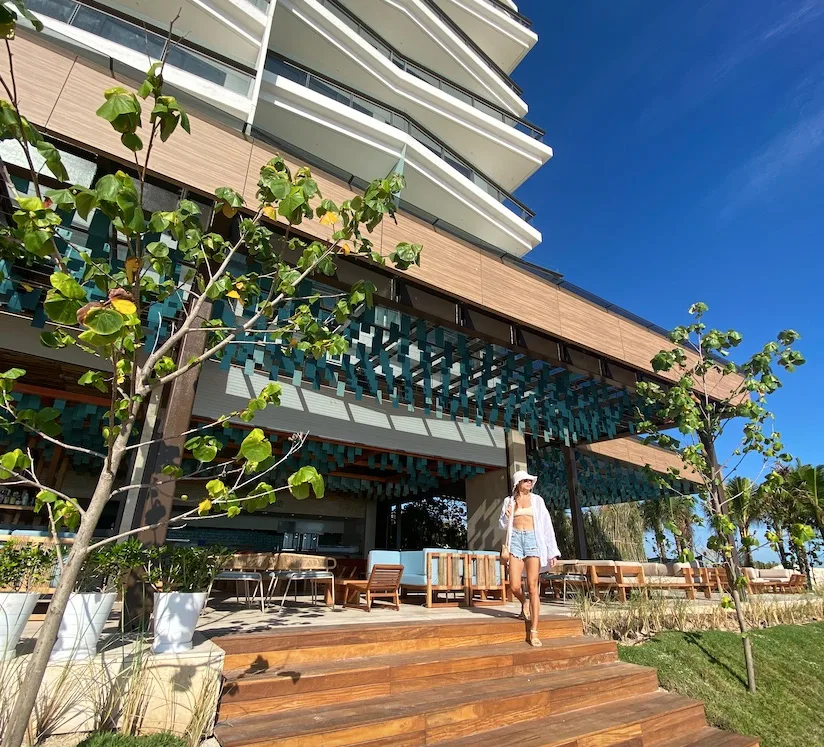 Summary of Hilton Cancun
The Hilton Cancun is a great resort for those looking to get away for a week-long vacation full of great food, good service, all in a brand-new, yet familiar setting. This hotel is ideal for those seeking a stress-free trip that doesn't take a lot of coordinating and planning. It's close to the airport, it's brand spanking new, and it impresses with food and beverage, making it a care-free choice for your next beachfront getaway.
I give the Hilton Cancun a 8/10 overall